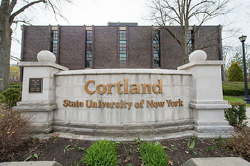 07/10/2020

As the coronavirus pandemic continues to claim record numbers of victims daily, I have been disheartened by news stories showcasing heated arguments over whether someone should wear a face covering.
Make no mistake: At SUNY Cortland this fall, face coverings will not be a debatable issue.
Unless medically exempted, all students, faculty, staff, visitors, contractors and guests on campus will be required to wear a face covering whenever there is a possibility they could come within six feet of another person. That means they will wear one — or have one around their neck ready to raise at a moment's notice — most of the time they are on campus. That includes anytime they enter a building, leave a residence hall room, work out in the Student Life Center or use a shared restroom.
SUNY Cortland has nearly finalized a detailed set of guidelines regarding face coverings and the responsibility that all members of our community will have to wear them appropriately. Those guidelines will be released early next week. All students and employees will be required to follow those guidelines while on campus. Students who do not follow them may face disciplinary action.
The university has ordered 20,000 reusable cloth face masks and will provide all students and employees with two masks each. There is nothing political about face masks. It is one of the most effective actions, along with social distancing and handwashing, that a person can take to prevent the spread of the novel coronavirus.
SUNY Cortland takes great pride in being one of the nation's healthiest campuses, and the health and safety of every member of our community is our top priority.
With that in mind, Provost Mark Prus today shared with faculty a flexible process for determining which faculty members will teach remotely due to health or other concerns. Gathering information through that process will take until July 20. After that, we will have a better idea of which classes will be held solely online and which will have an in-person component. I am grateful for the continued patience of both our students and our faculty as we work through this unprecedented situation.
Please know that SUNY Cortland is committed to providing as many in-person educational experiences as possible while protecting the health of our faculty, students and staff. We are also working on a process for students to request an all-online curriculum if they desire it. Online-only students will not be required to live on campus.
We are aware, however, that most students want to return to Cortland. Students who plan to live on campus this fall should visit a new web page created by the Residence Life and Housing Office. It offers detailed information about this fall's move-in process, new expectations for behavior in residence halls, room capacity limits, tightened guest policy and much more.
A link to the page can also be found on SUNY Cortland's Restart webpage. All members of the university community are urged to bookmark the site and visit it for updates and missed announcements.
Restarting campus operations depends on getting the university's non-essential workforce, most of whom have been working remotely since mid-March, back to campus and performing their duties in a safe manner. SUNY Cortland plans to begin returning non-essential employees on Aug. 3, with every office and department operating at roughly 50% capacity to help ensure social distancing.
All offices and departments are drawing up individual return-to-work plans to map out the changes and adjustments that will be necessary for them to function safely. Those plans will also identify those employees who, for a variety of possible reasons, may continue working remotely through the fall. The university has drafted a comprehensive set of return-to-work guidelines that will be released as soon as they are finalized.
Although much remains to be done before we welcome our community back to campus, I am confident of our success and look forward to seeing you all again.
All the best,
Erik J. Bitterbaum
---