News Detail
06/07/2022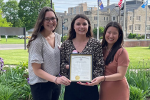 More than 2 million people in the U.S. live with an incurable communication disorder known as aphasia, yet only 15% of the population has ever heard of the condition, according to a 2020 survey.
That's why three graduate students and a faculty member in SUNY Cortland's Communication Disorders and Sciences Department successfully petitioned the Cortland County Legislature to declare June to be Aphasia Awareness Month locally.
"People may assume that individuals with aphasia have a loss of intelligence, but that's not the case," said Eileen Gilroy, a lecturer who teaches the Language Disorders in Adults course to graduate students. "These individuals just lack the ability to communicate."
Three students training to be speech-language pathologists — Erika Janny, Paige Knetchel and Min Ju Oh — attended the May 26 meeting of the Cortland County Legislature and spoke passionately about aphasia's causes and the need for awareness. That led legislators to issue an official proclamation, which falls in line with the national recognition of the month.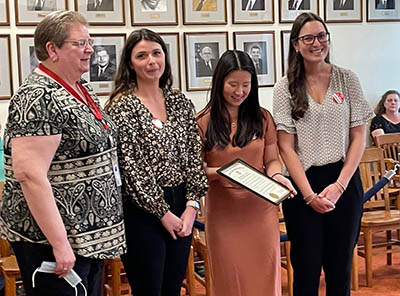 "Our students spoke from the heart," Gilroy said. "It was so impressive."
A stroke is the most common cause of aphasia, which impairs the ability to speak and understand others. Other causes can include traumatic brain injuries, tumors, infections and neurodegenerative diseases. Despite not having a cure, aphasia can be treated with speech therapy.
In March, actor Bruce Willis announced his retirement due to aphasia, bringing more awareness to the condition.
In past years, graduate students in Gilroy's classes have led several different community education projects related to aphasia. Their work brought them to hospitals, local events and even restaurants and banks to help develop menus and prompts that could make it easier for individuals with aphasia to place their food orders or perform banking transactions.
The three-student team that spoke to the legislature didn't do it for academic credit.
"This wasn't tied to a class requirement," Gilroy said. "These students were passionate about something and they stepped up."
During the second year of SUNY Cortland's two-year master's program, students work primarily off campus, with one semester in a school placement and one in a healthcare setting.
Gilroy said that community projects improve students' abilities to translate their academic work into simpler terms. That, in turn, can help the public understand the life-changing work of speech-language pathologists and audiologists, whether it relates to aphasia or a different disorder.
"Our students and faculty are passionate about letting the world know that these individuals are out there and they're part of our community," Gilroy said. "They deserve a voice and they deserve to be heard."
---