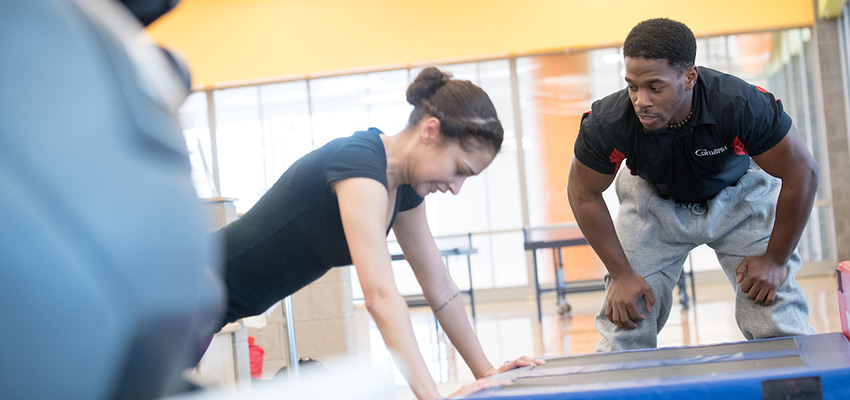 Congratulations on taking the first step toward leading a healthier lifestyle! SUNY Cortland's Personal Training Program will help to educate and motivate you to improve your overall fitness level and feel better. We look forward to helping you reach your health & fitness goals!
Personal Fitness Trainer Service
Hire your own personal fitness trainer at reasonable rates. All in-person sessions take place privately in the Student Life Center. Whether you need to make modifications to your present program or want to begin a new program, a Personal Trainer is available to work with you to help you attain your health and fitness goals.
To get started you will need to click on the Personal Training Interest Form below and hit submit. Once you do this, one of our Personal Trainers will contact you within 3-5 business days.
Personal Training Interest Form
If you have additional questions about the personal training program, please send an email to: Louise Mahar, Assistant Director for Fitness. You can also call Lousie at 607-753-4943 to talk to schedule an appointment.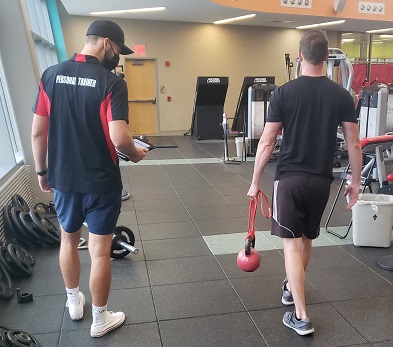 All Personal Training Sessions must be paid for in advance. It is also possible to pay using a credit card by visiting the Recreational Sports Website and choosing "Purchase Portal" from the menu on the right side of your screen. Choose Massage & Personal Training and then sign into your MyRedDragon Account using your SUNY Cortland credentials. If you do not choose to pay using a credit card, you can purchase sessions by using either cash or a check made out to SUNY Cortland at the Front Desk in the Student Life Center between 6 a.m. and midnight Monday - Friday or between 7 a.m. and midnight on the weekends. You are welcome to purchase one session at a time or several in advance. When you purchase a package, a training session will be removed from your account each time you complete a workout with your trainer.
Student Personal Training Rates
Hour-Long Sessions

Single Hour Session

$20

Package of 6

$114 ($19/session)

Package of 12

$216 ($18/session)

Half-Hour Sessions

Single Session

$16

Package of 6

$90 ($15/session)

Package of 12

$168 ($14/session)
Faculty/Staff/Member Rates
Hour-Long Sessions

Single Session

$24

Package of 6

$132 ($22/session)

Package of 12

$240 ($20/session)

Half-Hour Sessions

Single Session

$20

Package of 6

$90 ($15/session)

Package of 12

$168 ($14/session)

Partner Training Rates

Single Session

$16

Package of 6

$90 ($15/session)

Package of 12

$168 ($14/session)

Please Note: It is necessary for each client participating in partner training to purchase their own sessions (including packages) since the trainer must remove sessions from each clients account after each workout.
Fitness Assessments
Our Personal Trainers perform a Fitness Assessment (also called a pre-assessment) on each new client that signs up for our program. A Fitness Assessment is a series of assessments and/or movement screens to determine your current level of physical fitness and movement patterns. The data from the Fitness Assessment is used to design a personalized fitness program specifically tailored to help you move better and achieve your goals. Some of the many benefits of a Fitness Assessment include:
Evaluate your ability to move through basic, fundamental movement patterns
Identify your strengths and weaknesses
Determine potential areas of health or injury risk
Establish fitness goals and level of motivation
Monitor progress toward achieving fitness goals
After a period of time, your Personal Trainer will perform another fitness assessment (called a post-assessment) to measure how you are progressing toward your fitness goal. Post-testing will help to determine appropriate ways to further challenge you in your program. Additionally, you will be eligible to participate in regular body composition testing using the Bod Pod free of charge (this test normally costs $20.00). The various fitness tests include:
Resting Heart Rate
Resting Blood Pressure
BOD POD Body Composition Testing
Girth or Circumference Measurements
Body Mass Index
Hip-to-Waist Ratio
Specific assessments to measure flexibility and mobility of certain joints
Physical tests to determine muscular strength and endurance
To request a Bod Pod Test please complete the Bod Pod Test Request Form.
Once we receive your request, one of our Bod Pod Technicians will contact you within 1-3 days.
For more information on Bod Pod Fitness Assessments, please send an email to: louise.mahar@cortland.edu, Assistant Director for Fitness or call 607-753-4943.