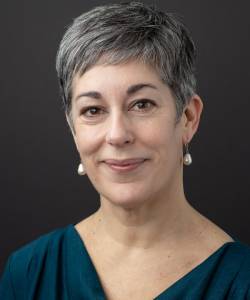 Ann McClellan is the university's chief academic officer and provides leadership and vision to the Schools of Arts and Sciences, Education and Professional Studies. She manages offices including enrollment management, graduate studies, information resources, institutional research, international programs, multicultural and gender studies, outdoor and environmental education and sponsored programs.
A Michigan native, McClellan is a graduate of the University of Michigan. She earned a master's in literature and a Ph.D. in English from the University of Cincinnati. McClellan began her teaching career at Eureka (Ill.) College and moved to the English Department at Plymouth (N.H.) State University, where she taught for 14 years. Her areas of expertise include 20th century British Literature and culture, Sherlock Holmes and fan studies. McClellan is the author of Sherlock's World: Fanfiction and the Reimagining of BBC's Sherlock and How British Women Writers Transformed the Campus Novel. She has presented on and published several chapters of an upcoming work on Black American adaptations of Sherlock Holmes in Broadway musicals, silent film, advertising, jazz music, fiction and graphic novels.
McClellan taught at Plymouth State for 14 years, serving as English Department chair for six years and chairing the university's Women's Studies Program for four years. She was named Plymouth State's associate provost in 2019 and served as interim provost from 2020 to 2022. McClellan returned to the faculty in 2022 and authored the university's New England Commission of Higher Education (NECHE) accreditation report in 2023. At Plymouth State, McClellan led major projects including a search for the university's first chief diversity officer and the development of a Center for Diversity, Equity and Social Justice.