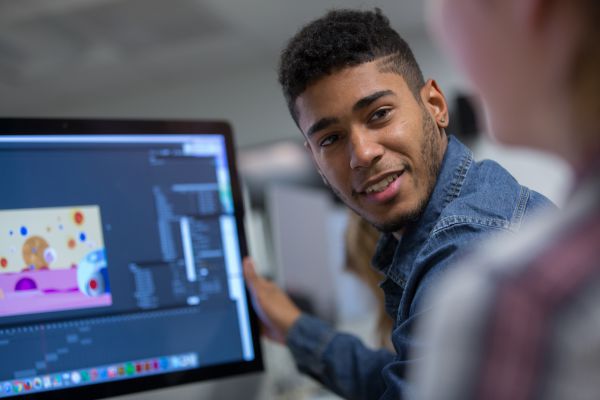 08/18/2016

Aspiring graphic designers, animators and multimedia professionals can follow their artistic passion and build their technical skills through a recently renamed major at SUNY Cortland: graphic design and digital media.
The new name reflects an academic program that emphasizes digital training and merges the applied and fine arts.
"It's an emerging field," said Martine Barnaby, an associate professor of art and art history. "That's the nature of the work, so students will gain a wide range of experiences — with digital illustration, infographics, visual design for the web and many others."
Formerly known as new media design, the graphic design and digital media title will be incorporated in the course registration process for current students starting in the 2017-18 academic year. Students from other disciplines also will be able to pursue a minor in it.
Teaching will focus on the fundamentals of digital design and the front-end presentation of websites, so web programming knowledge is not required. Applicants also are not expected to submit a portfolio.
The new major will look to offer many of the same benefits that have become trademarks of the College's Art and Art History Department:
Professors with diverse talents and interests
SUNY Cortland students learn from faculty members who are accomplished artists themselves, joining a department that boasts different areas of specialization: printmaking, multimedia, graphic design, typography, interactivity, photography, video, animation, fibers, ceramics, painting and sculpture among them.
"All of these inform each other," said Kathryn Kramer, a professor of art and art history.
New facilities and cutting-edge equipment
A major renovation of the Dowd Fine Arts Center in 2014 brought modern learning space, new technology and upgrades to the Dowd Gallery, which houses several exhibitions of professional artists throughout the year. The College's best student work also is displayed in an annual juried exhibition at the end of the academic year.
"A special learning experience comes with being part of a campus community that invites and supports the exhibition of professional artists throughout the year," said Charles Heasley, a professor of art and art history.
Internship opportunities on and off campus
The College's aspiring student artists also find value and earn course credit through internships. They put their talent to use for various departments across campus as well as nearby businesses seeking printing, design and technical expertise.
Individual attention in small classes
Collaboration between students and professors proves strong and meaningful within the department. "There's a sense of community," said Elena Grossman, an assistant professor of art and art history. "It's a true collective."
Unlimited career potential
Recent graduates have gone on to work for Apple, Michael Kors, sports franchises and many different creative advertising agencies. The graphic design and digital media major will look to continue an applied approach, training students to turn their passion for art into professional opportunity.
---