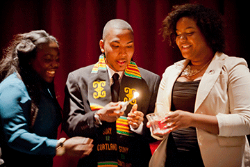 03/12/2019

In 1994, six SUNY Cortland seniors of color gathered with their families the day before graduation to proudly, and for the first time at the College, don a woven, multicolored stole made to honor an ancient tradition of scholarship in Africa.
The traditional, woven kente cloth of Ghana, originally worn by royalty, serves as an important symbol for many African-Americans to highlight their connection to the African continent.
Twenty-five years later, 105 yellow, red, green and black Kente stoles will stand out in the sea of caps and gowns at Commencement 2019, reflecting the growing body of African-American, Caribbean-American and Latinx students at Cortland and the academic prowess their graduation demonstrates.
At Cortland the celebration, which for years has been held in April, has deep institutional history and continues to be an important part of the College's multicultural student experience. Graduating seniors wishing to acknowledge their multicultural heritage are encouraged to invite their families and campus friends to attend and participate in the formal ceremony.
"In my experience, especially for the students, kente's meaning is impactful," said AnnaMaria Cirrincione, who directs the Multicultural Life and Diversity Office. "It symbolized their transition from college to the next part of their life and the accomplishments they've made while being here."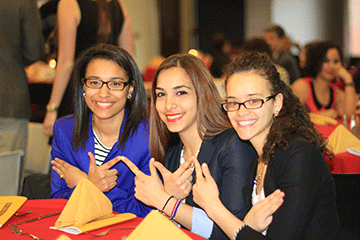 That first Kente Ceremony was hosted by Africana Studies. Since early days, the evening formal dining event with keynote speaker has been sponsored by the College's Multicultural Life and Diversity Office. The event became difficult to manage the day before undergraduate Commencement and during Graduate Commencement, so it was moved to April in 2013.
This year's event will be Saturday, April 6, in Corey Union Function Room. The Kente Ceremony is closed with no additional participants being accepted.
The keynote speaker is Yusuf Muhammad, Jr. '99, M '01,a principal at George Washington Carver High School in Atlanta, Ga.
During the ceremony, the College will present a SUNY Cortland senior with the inaugural Calvin Louis-Juste Memorial Award, honoring a student who reflects the leadership qualities of the late Louis-Juste, a 2009 Haitian-American graduate who died in 2011.
Since data was first collected on the ceremony in 2002 through this year, almost 800 students have accepted the academic honor.
"We're almost at capacity," said Cirrincione. That's despite far fewer families traveling to join their offspring since the change to April. Cirrincione instead attributes the program's success, in part, to the overall student population's growing diversity.
"We've drastically increased the number of students of color," she said. Current College data on the 2018-2019 academic year enrollment estimates that students from an underrepresented ethnic background now comprise between 22 and 26 percent of the student population.
Cirrincione was introduced to the ceremony in 2015 when she joined the Multicultural Life and Diversity Office as an assistant director. She now chairs the Kente Committee that meets regularly to plan the event.
According to her, participants in the ceremony are predominantly students of color, black and Latinx, but the group sometimes includes allies such as students in Hillel, the Jewish student organization, as well as students who have a disability and members of the LBGTQ community. Faculty and staff are strongly encouraged to attend to support a student they mentored. These individuals who have befriended students of color receive an honorary kente stole.
"I think a lot of the growth also is due to a sense of community and some of the struggles they have faced at Cortland, the advocacy they have been pushing for change regarding social justice issues," Cirrincione said.
Cirrincione also attributes SUNY Cortland's broad participation in this ceremony in part to the existence of the College's Voice Office in Corey Union, which brings together students from many different underrepresented groups to promote historically underrepresented groups on campus.
"As SUNY Cortland is becoming more diverse and reaching inclusive excellence, many students, including those who are not African American, have found value in participating in the Kente Ceremony," Seth Asumah, a SUNY Distinguished Teaching Professor of Political Science and chair of the Africana Studies Department. "Yes, we are growing and expanding."
Asumah introduced the Kente Ceremony at SUNY Cortland in 1994.
According to him, the event taps an ancient tradition that predates the more familiar western civilization style of graduation ceremonies and regalia used in the medieval universities of Bologna, Italy. These academic ceremonies or "durbars," took place in the ancient learning centers of Al-Karahouone in Morocco, Al-Azhur in Kemet and Nubia (Egypt), and Sankore in Timbuktu.
"In ancient Ghana, griots, sages and paramount chiefs, who have excelled in Maat — truth, knowledge and service — were honored during durbars, like our Kente Ceremony here at SUNY Cortland today," Asumah said.
The event enters a new phase with the creation of the Calvin Louis-Juste Memorial Award to recognize a student from a multicultural background. A committed student leader who devoted energy to Habitat for Humanity projects, Louis-Juste left a lasting mark on his alma mater. The first honoree will be a graduating senior with at least a 3.0 grade point average who is committed to community service, campus leadership, continuing personal improvement and advocacy for equity and inclusion on campus. In the future, the name of each year's winner will be inscribed on a plaque that will hang in the Corey Union Voice Office.
The list of sponsors has grown with the event, to include support strategic initiative funding from Vice President for Student Affairs' Office, Institutional Equity and Inclusion Office, and Alumni Engagement. Some of the added funding helps the students and their allies really enjoy the ceremony through professional photography of them wearing their stole, Cirrincione said.
"We also do a group shot at the end of ceremony, do a social media posting and let them save it on their own devices," Cirrincione said. "Then they get a framed picture when they receive their stoles."
Honorary kente stoles can often be seen among the rows of faculty and staff and administrators at Commencement, where in future years they may be worn to show support for students of color, according to Cirrincione. The Kente Committee chooses who will receive that honor.
"This will be my fourth Kente Ceremony," Cirrincione said. "It's one of my favorite events our office does. The more years I've done it, the more amazing it is just to see their growth from where they started. It's a little more intimate than being at graduation because it's smaller. You get to meet with them and share their success and it brings nostalgia for the last few years."
So many kente graduates are out there that the SUNY Cortland Alumni Association was inspired to establish a Kente/Voice Office affinity group for two gatherings this year, including on campus in July at Alumni Reunion 2019.
"The Kente Ceremony is a great, time-honored tradition at SUNY Cortland," said Erin Boylan, executive director of alumni engagement. "With almost 800 students participating since 2002, it seemed appropriate to celebrate kente alumni at the sesquicentennial-year reunion. We can't wait to have the group back during our milestone year."
Jonah Reardon, assistant director of alumni engagement and the upcoming event organizer, noted that the affinity group was developed by the association with collaboration between the Multicultural Life and Diversity and the Institutional Equity and Inclusion offices.
"Since both affinities target minority populations and communities, we found it to be a good fit for our desire to welcome back a cohort of alumni who may have not had a specific reason to return to campus for alumni reunion," Reardon said. "Additionally, it is also our hope that we are able to start developing positive relationships with attendees and our association. This year, we will be hosting a 'Late, But Not Too Late, Night' event on Friday, July 12, as well as an unveiling of the Voice Office renovation and of the plaque honoring Calvin Louis-Juste '09."
A second alumni association event, the inaugural Intercultural Alumni Gathering on Monday, March 18, in New York City, also rolls out the welcome mat for a diverse group of alumni including students of color. The happy hour reception is from 5 to 7 p.m. in Stout NYC Flagship in midtown Manhattan.
For more information about the Kente Ceremony, contact the Multicultural Life and Diversity Office at 607-753-2336 or visit the Kente page.
---