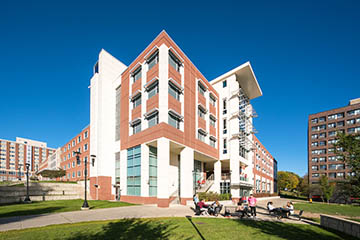 09/07/2022

The following information was sent to campus residents from the Residence Life and Housing Office.
Dear students,
As-is typical following a long, holiday weekend, the number of COVID-19 cases among campus community members has increased. Please understand that we are still in a pandemic and you should be aware of the following safety information:
Symptomatic students: Any students who have any COVID-19 symptoms should contact Student Health Service at 607-753-4811 on the first day they are ill, even if symptoms are mild. This applies to students who are fully vaccinated and exempt students.

Rapid testing: SUNY Cortland is no longer doing routine surveillance testing. Students are encouraged to use antigen rapid tests, which are available in drug stores and other retail locations, if they feel ill or suspect they have been exposed to the virus. Tests are available for on-campus students in residence hall offices.
Students who test positive for COVID-19: If campus residents test positive for COVID-19, they must return home to their permanent address to isolate as soon as possible. They should email the associate dean of their academic school (Arts and Sciences, Education or Professional Studies) and notify their residence hall director. If students are unable to travel home, they will be required to isolate in place where they live on campus.
Positive students and masking: Students who test positive should wear a mask at all times when not alone. For students unable to isolate at home, this includes residence hall roommates. All students who test positive for COVID-19 should wear a well-fitting mask for five days after ending isolation.
Class absences: Students experiencing COVID-19 symptoms should not attend class or any social gathering until their symptoms have cleared or they have received a negative test result. Instructions on notifying faculty members about class absences are included on the COVID-19 safety information page, under "Information for students" and "What to do if you are symptomatic."

Campus dining for students in isolation: Students who are unable to return home for isolation must complete the online meal form available under the COVID tab in myRedDragon. COVID-positive students must wear a well-fitting mask and pick up their meals from the Bistro Off Broadway during designated times. They may also send a friend to pick up to-go meals for them.

Lunch meals will be provided with labels (noting initials and last four digits of C-number) at noon Monday through Friday outside Bistro.

Dinner will be provided at 5:30 p.m. Monday through Friday. Breakfast items for the next day will be included with dinner.

Weekend packages will be given with dinner on Friday if a student is still in isolation over weekend. If a student enters isolation over the weekend, Cortland Auxiliary Services will prepare a weekend package for pick-up outside Bistro once Cortland Auxiliary Services is contacted.

Evening and weekend care: During the evening or weekends, students should monitor their symptoms, take a rapid antigen test – available in residence hall offices – and contact an off-campus health provider such as Guthrie Cortland Medical Center or an urgent care facility if needed.
Please also remember that the COVID-19 safety webpage includes additional guidance and resources for campus community members.
Residence Life and Housing Office
Van Hoesen Hall, Room B-33
ResidenceLifeandHousing@cortland.edu
---