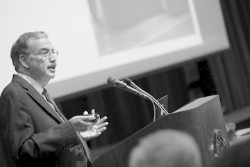 03/02/2021

Dear students,
For nearly a full year, you have made immense sacrifices to your normal routines due to the COVID-19 pandemic. I recognize this year has been especially difficult for our graduating students.
It pains me to announce that our Commencement ceremonies, the special days we set aside for celebrating and recognizing your achievements, cannot be held in person this May. Although a hopeful end to the pandemic is on the horizon, bringing together thousands of people from around the country in one location is dangerous both for our campus and the greater Cortland community.
We will, however, celebrate together virtually. Plans include:
A virtual celebration from Wednesday, May 12, to Friday, May 14. The virtual celebration webpage will allow graduates, faculty, staff and families to share photos and memories.

A virtual commencement ceremony held on Saturday, May 15, 2021, at 10 a.m.


An apparel design contest for the Class of 2021 will give our most creative students an opportunity to leave their mark. Apparel with the winning design will be available to purchase through the Campus Store.


A Class of 2021 Commencement sub-committee is being formed. The committee welcomes involvement and representation from the entire graduating class. Contact Special Events for the President to learn more.


Many more details will be shared in the coming months by email and on the Commencement page.
Sharing in the success of SUNY Cortland students at Commencement has been a highlight of my time as president. We will continue to recognize each other's accomplishments, but we must do so safely.
You should be proud of your work and you should know that the SUNY Cortland faculty, your family and friends share in that pride.
Thank you for your ongoing commitment to the health and safety of our community.
All the best,
Erik J. Bitterbaum
President
---