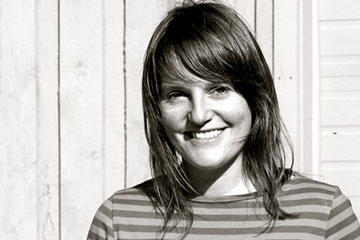 04/19/2018

Given the public's increased focus on sexual harassment and women's rights this past year, award-winning documentary filmmaker Jessica Congdon will make a timely visit to SUNY Cortland to show and discuss two of her works: "The Mask You Live In" and "Miss Representation."
Congdon will speak on "Feminism, Film, Men and the Media: Telling our Stories through Film" on Friday, April 20. Her talk will take place from 4 to 5:30 p.m. in Brockway Hall Jacobus Lounge.
"One of the things that impresses me with Jess' work is her fight for social justice," said Andrea Harbin, associate professor of English.
Preceding her talk, Congdon's 2015 film, produced, written and edited with Jennifer Siebel Newsom, "The Mask You Live In," will be screened from 4:30 to 6 p.m. on Monday, April 16, in Sperry Center, Room 105. The Mask You Live In explores what the producers perceive to be harmful notions about masculinity in American culture.
Her 2011 documentary, also produced, written and edited with Newsom, "Miss Representation," will be shown from 4:30 to 6 p.m. in the same location Tuesday, April 17. "Miss Representation" explores how mainstream media contributes to the under-representation of women in influential positions by circulating limited and often disparaging portrayals of women.
Both the talk and film screenings are free and open to the public and are part of SUNY Cortland's recognition of Sexual Assault Awareness Month. The campus is hosting a number of events throughout April sponsored by the Cultural and Intellectual Climate Committee (CICC), English Department, Title IX, and Women's, Gender and Sexuality Studies.
"We've shown both of these films regularly on campus, so they aren't new, but they are relevant because of what's been happening in the news lately," Harbin said.
Congdon's newest film and directorial debut, "Empire on Main Street," will be shown at the Blackbird Film Festival, which runs from Friday, April 20, until Sunday, April 22. She is listed on the festival's "Meet the 2018 Filmmakers" site as a filmmaker who will attend the festival. The short documentary film will be screened during the Block B- Documentary (PG) series from 9 to 10:45 a.m. on Saturday, April 21, at a location to be announced.
The founding editor and director at Umlaut Films in San Francisco, Congdon has received accolades such as Association of Independent Creative Editors (AICE) editing awards, the One Show Award, and the Cannes Lions award.
"The Mask You Live In" and "Miss Representation" both premiered at Sundance, in 2011 and 2015 respectively.
In 2017, she premiered her written and edited feature-length documentary, "Dolores," directed by Peter Bratt. The film won a Sundance Documentary Competition award. In "Dolores," Congdon tells the story of Dolores Huerta, who co-founded the National Farmworkers Association with Cesar Chavez, but was not recognized. This would later be known as the United Farm Workers (UFW), according to her biography.
"Jess is empowering this woman who has been overlooked," Harbin said. "Especially this year, with the #MeToo movement, we should not only think about women and our own identities, but also masculinity. What it means to be masculine is contributing to this abuse of power and discrimination against women."
Prior to her work on those films, Congdon co-directed and edited the documentary "Race to Nowhere." She has edited the documentaries "Speed and Angels," "Motherland," "The Bronzer" and the narrative features "Big Girls Don't Cry" and the Sundance award-winner "Dopamine."
Congdon also directs the web series "Inspired" and "Places + Plates."
Congdon grew up in Washington, D.C., and received her bachelor's degree from University of California at Berkeley and studied film at the Art Institute of Chicago.
To learn more about the events being held on campus, visit the Cultural and Intellectual Climate Committee website or contact Harbin at 607-753-2073.
Prepared by Communications Office writing intern Hannah Bistocchi.
---