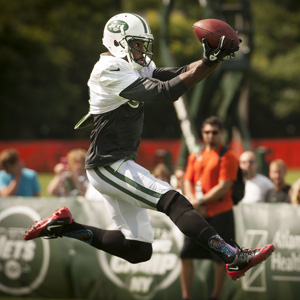 07/21/2014

Coaches and players from the New York Jets Wednesday will make their traditional "Downtown Touchdown" on Main Street in Cortland as the unofficial public opening of summer training camp.
Buses carrying first-year players, head coach Rex Ryan and other Jets officials will stop in front of the U.S. Post Office between Court and Tompkins streets on their way to camp check-in at SUNY Cortland. They are expected to arrive sometime between 3 and 4:30 p.m.
As he has for all four of the Jets' previous Cortland training camps, Ryan is expected to briefly introduce some of the Jets' new players to the crowd, then thank the community for its support. On hand to welcome him will be SUNY Cortland President Erik J. Bitterbaum, Cortland Mayor Brian Tobin and hundreds of local fans and well-wishers.
"We are excited to welcome the Jets back to Cortland and our beautiful campus for a fifth year of summer training camp," Bitterbaum said. "Their arrival is something that the Cortland community looks forward to every summer."
The first camp practice will be at 10 a.m. Thursday, July 24, on the Jets' field south of the SUNY Cortland Stadium Complex. The Jets will train at SUNY Cortland for three weeks, leaving Aug. 14. During that time the team will hold 15 public practices which fans are invited to watch for free.
"Our business community is once again excited to welcome the New York Jets and their fans back to Cortland for their 2014 training camp," said Bob Haight, the executive director of the Cortland County Chamber of Commerce. "The economic impact to our community from the visitors is tremendous."
The team will hold its popular Green and White Practice in the SUNY Cortland Stadium Complex, at 7 p.m. on Aug. 2. This year, the event will include the team's Flight Crew cheerleaders and the New York Jets Aviators drumline, and will be followed by a fireworks display.
Daily practices will be from 10 a.m. until noon. Gates open at 9 a.m. and close at 1 p.m. In addition to the action on the field, visitors can enjoy Jets Fest, a football theme park for kids, and shop for official team merchandise in the Jets Shop. The team will also host a "Taste of Cortland" event on Friday, Aug. 1, with a handful of local eateries offering free food samples; Mascot Day on Monday, Aug. 11, featuring several mascots from throughout Central New York; and a military appreciation day on a date to be determined.
Although the Jets invite all fans to attend open practices, please note that all schedules are subject to change. Practices may be canceled or closed to the public in the event of inclement weather.
Check the SUNY Cortland website's Jets Training Camp page for scheduling updates and event details.
Practice is scheduled for 10 a.m. to noon for every public practice, with the exception of the Green and White Practice. The Jets Shop merchandise tent, Jets Fest and training camp gates are open from 9 a.m. to 1 p.m. for most practices and from 5 to 9:30 p.m. for the Green and White Practice.
Admission remains free, with tickets printed from the Jets website required.
Fans should call the team's fan line at 973-549-4844 or visit the team's Training Camp page for the most up-to-date news regarding practice schedules. Updates also are available on Twitter and Facebook.
The 2014 camp will be the fifth Cortland camp under six-year head coach Rex Ryan. Last summer, 21,000 training camp visitors from 34 states and five countries spent more than $1.6 million locally, creating an economic impact of nearly $3.7 million, according to a study by SUNY Cortland faculty members. Together, the four New York Jets training camps hosted at SUNY Cortland since 2009 have generated $19.24 million in economic impact for Cortland County.
---