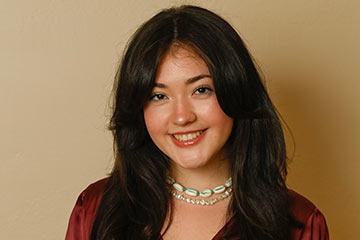 08/14/2023

Elizabeth Fitzpatrick, a SUNY Cortland musical theatre major from Staten Island, N.Y., heard the siren's call of show business by the age of 7. For her, there was never a doubt about choosing a career.
"I went to 'The Lion King,' which was my first Broadway show," said Fitzpatrick, recalling that she sat near the stage. "I remember when the animals came down the aisle and I had the realization that this is exactly where I want to be when I grow up."
Soon to be a sophomore, Fitzpatrick recently was selected as one of six interns for the Shubert Organization, a major theatrical producing company and owner of 17 Broadway theaters. She was chosen out of 93 applicants from 66 campuses in 12 states and three countries.
The six-week program is designed to give BIPOC (Black, Indigenous, and people of color) students interested in theater management an experience in administration and operations. She works at the Shubert Theatre, where the new Tony-winning musical "Some Like It Hot," based on the 1959 Marilyn Monroe movie, is playing.
Fitzpatrick does the behind-the-scenes work that goes into bringing a million-dollar production to the stage, night after night. Her favorite moments so far have been when the doors open before a performance starts.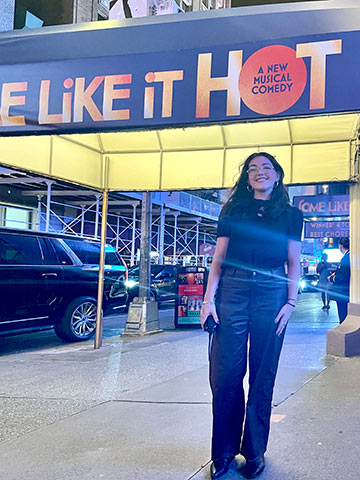 "You would think this is very chaotic," Fitzpatrick said. "Sometimes it is, but it's also the rush of helping people, of organizing everything, of thinking on your feet and getting people to where they need to go. The actors are getting ready for the show and you're making sure everything is ready. Opening the house is just a beautiful feeling. You are working in tandem with everyone to get this show going, and it's so satisfying."
Aside from her professional pursuit, Fitzpatrick has a cultural interest in theater that keeps her inspired. Her favorite musical is Lin Manuel Miranda's "In The Heights," due to its reflection of her own heritage as a daughter to an immigrant mother, Maria, from El Salvador and a father, Kevin, descended from Irish immigrants.
The show, Fitzpatrick says, also mirrors her own feelings as a first-generation college student with parents who worked hard to create a better life for their children.
"I grew up a lot around my Hispanic culture, but I didn't really see that reflected in any TV, musicals or movies. So the representation of 'Oh there's somebody who comes from a mixed family. Oh, there's somebody that has a household where they speak Spanish' — where I can see a mirror image of my family, of my culture, that didn't really happen to me. So, when I found 'In The Heights' It was a big deal for me."
Just because Fitzpatrick had a clear goal at a young age doesn't mean it was always easy. As part of a family where everyone else had a serious love of sports, it took time to find her own way.
"My two older sisters played basically every sport possible, my younger sister plays a lot of sports. And I was placed in sports at the ripe age of five years old and was bad at it — very, very bad," Fitzpatrick said. "My older sister Haley said, 'Mom, you can't do this. She has to find something else that she's good at.'"
With her family's support, she soon found that something. Her mom, who had seen Fitzpatrick singing and humming from a young age, signed her up for voice lessons. At her sister's suggestion, dance classes followed.
As her interest in performing grew, so did her interest in other aspects of theater, including management. Someday, Fitzpatrick hopes to open her own theater company.
"Those things interest me — not just as a backup, but as another thing in theater that I want to do. But I've been performing since I was 7 and plan on hopefully, one day, to be on the Broadway stage. However, the idea of being a manager and the idea of being on the business side of theater is a goal that I very much want to accomplish as well."
Cast in the university's production of "Seussical" last spring, Fitzpatrick says the personal attention and close bonds she's had in the Performing Arts Department have also been key to her progress.
"I have gained so much experience and so many connections through just one year at Cortland, and I have seen so much progress within myself. Goals that I had been trying to do for four years in high school, I accomplished them in one year at Cortland."
Now, a little over a decade after her dream began as part of an audience, Fitzpatrick relishes her chance to work for a premier musical in the most famous theater district in the world.
"Every day is kind of a surreal moment because I feel so lucky that I'm 18 years old, I'm a young woman and the daughter of an immigrant, and I'm already doing a job that I love so much."
---