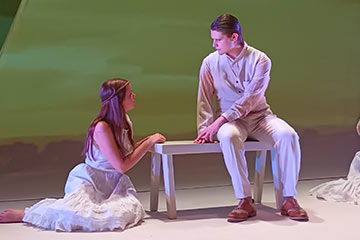 11/02/2023

The 1906 death of Grace Brown, made famous through her love letters and the fictional retelling in An American Tragedy by Theodore Dreiser, is steeped in the history of Central New York.
Now, Mark Reynolds, costume designer for SUNY Cortland's Performing Arts Department, and Crystal Lyon '09, a Cortland artist and university alum, found success with a new version of the tale at Dowd Fine Arts Center's Lab Theatre.
"Love, Billy" was performed to sold-out audiences from Thursday, Nov. 2 to Sunday, Nov. 5 as a workshop co-production between the university and Cortland Repertory Theatre. Billy was a nickname of Brown's, who liked to hum the song "(Won't You Come Home) Bill Bailey." Tickets are sold out for all performances.
"What a thrill it was to watch the actors play to sold out houses," Reynolds said. "Hearing the conversations in the hallway after each performance validated that this story is still relevant to a modern audience. It was an exciting and fulfilling weekend of performances."
Reynolds, who wrote his first-ever script for the show, came together with Lyon, owner of Living Illusion Studio at the Cortland Corset Building, out of a shared interest in the history of the murder of Brown by Chester Gillette, who lived in Cortland. The creative team first met through Cortland Repertory Theatre, where Reynolds is a board member and Lyon was the house manager.
"It isn't my writing, but my ability to help discover and give a voice to both Grace and Chester by returning their humanity within their letters," Lyon said. "Seeing how Mark was able to then take my breakdown of the letters and direct the cast into speaking the written words in a way that we felt was how the words were meant to be delivered in spoken word is surreal and powerful."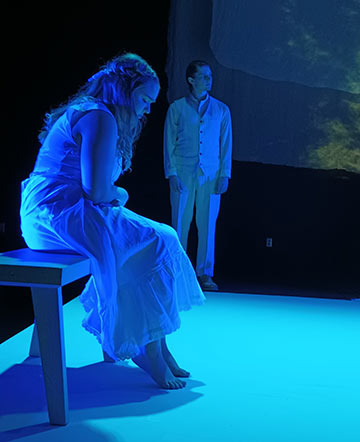 Now, they've managed to put their own perspective on a story that's been told for more than a century in forms as varied as books, movies and an opera.
"They don't necessarily focus on who the humans were that this tragedy happened to," Reynolds said. "So we decided, on a whim, that we would love to hear their letters out loud."
After moving to Cortland in 1905, the 19-year-old Brown met Chester Gillette, who had also moved to Cortland to work in his uncle's factory. Falling for each other, Brown became pregnant at a time when the reputation of a woman would be ruined if she gave birth out of wedlock.
As she reached out for help from Gillette, he became more distant — having met another woman. The relationship between the two would end in her death, as Brown was discovered drowned after a trip together to Big Moose Lake in the Adirondacks.
Gillette was found guilty of murder at trial and executed. Brown's discovered letters were used as evidence for the defense and prosecution.
Lyon and Reynolds took time to read the correspondence between Brown and Gillette and found their own story to tell, different from Dreiser and others.
"By reading through these letters, we found there's all sorts of myths and lore connected to what happens on Big Moose Lake in the Adirondacks, and that seems to be what people remember," Reynolds said. "But when you investigate and explore these letters deeply, you get to understand their relationship in a different way. And that's truly what we are accomplishing with 'Love, Billy.'"
This production, as a workshop, helped Lyon and Reynolds fine tune their script.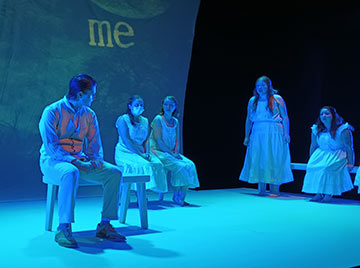 "We have been researching independently and comparing notes, asking challenging questions, and exploring the possibilities of what may or may not have happened between Grace and Chester to lead to her untimely death," Lyon said. "The creative space is always respectful, and empathic, and most importantly, we both wanted to tell as true a story as possible and challenge what we believe we know through a modern lens."
The emotional issues involved, like young love and unexpected pregnancy, were relevant long before Brown's death and remain so today. The student cast, Reynolds said, worked with the topics wonderfully.
Six different actors, sophomore Emily Reilly, freshman Ann Marie Thorell, senior Shea McMahon, junior Olivia Goodman, sophomore Brianna Lockwood and sophomore Savina Jannetti performed as Grace Brown in parts of the play, while senior Andrew Barrett was cast as Chester Gillette.
"The actresses playing Grace really opened their hearts up to her story and found relevance in what Grace says to their own lives," Reynolds said. "It's so incredible to watch young actors connect to their material in such a way. The actor playing Chester Gillette is so specific about his research and his feelings. He's fascinating to watch. So, their connection to the story has been beautiful to see."
---