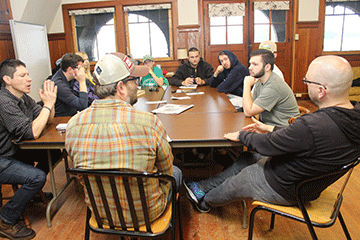 10/13/2020

SUNY Cortland geographer Christopher Badurek was obliged to cancel a summer 2020 class field trip to the Adirondack Park due to the outbreak of COVID-19.
The interdisciplinary social sciences field trip, which he had taught in 2018, and again in 2019 with two other professors from Cortland, was to have focused on the Adirondack Park's unique geography, history and economy with an eye to solving its most pressing problems.
"But all the field components for the course this summer at Raquette Lake were restricted; so basically, we all had to cancel our classes," Badurek said.
"I decided to create a virtual field trip."
An associate professor in the Geography Department and a specialist in an advanced form of computer mapping software called geographic information systems (GIS), Badurek found the visuals and materials necessary to teach a standalone two-and-a-half week virtual summer course that featured ample electronic visuals of the park's majestic natural wonders, both new and recreated from past fieldwork data and images captured during the previous summers. For example, the class featured a virtual "hike" up Bald Mountain (Rondaxe Mountain), a classic Adirondack experience, but in this case made up of an online tour that's stitched together from digital maps and collected imagery.
His efforts breathed new life into the blended special topics course on political economy, environmental geography, tourism and economic development in the Adirondacks that he had taught in person during summer 2019 with Scott Moranda, professor of history, and Ben Wilson, associate professor of economics.
Eight students completed the course curriculum without anyone ever setting foot on Raquette Lake or Blue Mountain Lake.
"The students were from different fields, elementary education and history," Badurek said. "It was a SUNY online class so I had a student who was from SUNY Plattsburgh. She had a certain perspective, being someone who was from the Adirondacks, and she said 'I learned a lot.'
"In this class, almost all of them had been to the Adirondacks before and they had been enthusiasts about the area. They were trying to get in as much experience in national and state parks as possible."
Making use of visuals already within his reach, Badurek used various apps to include the class in a virtual exploration of the Adirondack Experience Museum in Blue Mountain Lake and the university's Camp Huntington, and other avenues to explore the tourist economy. They looked at digital images about the development of the 'Great Camps of the Gilded Age,' from the era when 19th century industrialists opened access to the Adirondack experience to the exceptionally wealthy.
"I used a combination of apping and video that came from YouTube, a SUNY Cortland video about visiting camp Huntington, and other videos by students who had been there. So it was students' own recordings about their own experiences. It gives you a sort of first person view as if you're with them."
In developing this past summer's course, Badurek leveraged the kind of expertise he also uses to direct the Institute for Geospatial and Drone Technology, which applies GIS and imagery data for regional research, education, community outreach, and business development on behalf of the Cortland community and neighboring partners in Central New York.
"I tried to replicate some of what we had talked about, the educational content," Badurek said. "I used different technology including the Google Earth tool with 3D mapping capabilities. I tried to make it look real, with mountain landscapes. Some of the maps were of places the (prior) class hiked in 2019."
Badurek recently captured a $500 Love of Learning award from Phi Kappa Phi (PKP), the nation's oldest and most selective collegiate honor society for all academic disciplines, to cover his travel costs associated with making the course even better for next summer, whether it's virtual or in person.
His stipend for the project titled "At Work in the Wild: Developing Virtual Field Trips in the Adirondacks" was formally announced on Oct. 5. A compete award recipients list is available. The Love of Learning Awards are designed to help fund post-baccalaureate professional development for active Phi Kappa Phi members. Badurek joined the society in 2019.
"We are delighted each year to support the lifelong learning activities of our members through these grants," said Mary Todd, PKP's executive director, about this year's 200 award recipients.
Badurek will return to the Adirondacks as soon as is safely possible to capture video and photos of the former Camp Pine Knot with a drone he frequently uses for GIS research. Additionally, he will collect a variety of photos and videos of locations that are usually included in the field component of the camp: the Wild Center Museum in Tupper Lake, Camp Sagamore National Historic Landmark near Raquette Lake, N.Y., and Camp Santanoni National Historic Landmark near Newcomb, N.Y. These will be ultimately uploaded to Google Earth and web GIS for sharing with colleagues teaching related courses on the Adirondacks.
He will stay at SUNY Cortland's remote Raquette Lake former great camp, the Huntington Memorial Camp at William H. Parks Family Center for Environmental and Outdoor Education.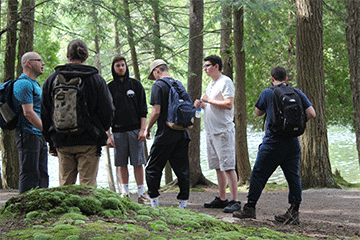 In his grant proposal, Badurek noted that the students would be able to take one of three Adirondack-themed courses: Political Economy, Environmental Geography, or History of Tourism.
According to Badurek, the joint courses are guided by Common Problem Pedagogy principles, an approach bringing students from different majors together to solve contemporary problems.
"In our case, students work together to identify major economic and environmental challenges in the Adirondacks and draft a proposal for a project that would transform the lives of Adirondack residents for the better," Badurek said.
The three professors want to offer a live version of the class again in summer 2021, Badurek said.
"But if it doesn't work out, I have this online content to teach the course again," he said. "And the content from this course will be around in case others want to use it.
"A thorough appreciation of the Raquette Lake setting, even virtual, will also help students better understand the benefits and values of this unique wilderness setting," Badurek said.
---