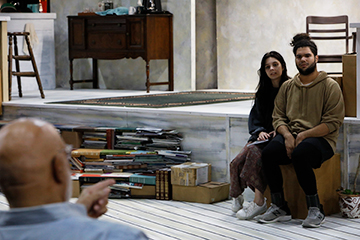 09/27/2022

SUNY Cortland's Performing Arts Department is set to raise the curtain once more, as another theater season begins Thursday, Oct. 6 with the award-winning play, "Proof." It will run through Sunday, Oct. 9.
Audiences can expect the same flair and flourishes they've come to expect from the university's students. The venue, however, will be new — the result of a first-ever joint stage production between SUNY Cortland and Cortland Repertory Theatre.
The Performing Arts Department's debut show will be performed at CRT's Downtown Cortland Theatre, 24 Port Watson St. It's an opportunity that Deena Conley, chair of SUNY Cortland's Performing Arts Department, has looked forward to.
"Cortland Repertory Theatre is a well-respected regional theater," said Conley. It makes sense that our department and CRT would partner on a production. We have tried to make the collaboration work before, but with COVID, it just didn't happen. We are so excited that with "Proof" the partnership will actually occur.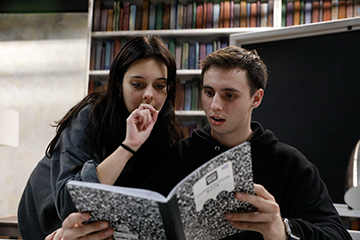 "Proof" is a Pulitzer Prize-winning play about a mysterious, mathematical proof that explores the boundaries between genius and madness. Although challenging in itself, Conley noted by collaborating with CRT, the students involved will also gain another level of experience.
"Our students get to work in another space, receive a professional credit for their resume, and get the experience of rehearsing in one location and performing in another, which is what happens in professional theater," she said.
Kerby Thompson, theater director of CRT, agreed.
"To do a show like "Proof" while being very close to the audience, when every move and gesture counts, is a terrific learning experience," Thompson said. "This production also is a huge step in the long-range goal of CRT Downtown, which is to produce more live theater in our downtown space. This was the original intent of the building, and it's great to see it happening again with SUNY. Our hope — both CRT and SUNY — is that when this show is a success, we'll be able to do this every year, perhaps a bigger play, or even a musical."
Conley agrees that the experience has been one she hopes happens again.
Written by David Auburn, "Proof" premiered in 2000, winning Best Play at the Tony Awards and the 2001 Pulitzer Prize for Drama. It was adapted into a 2005 film starring Gwyneth Paltrow, Anthony Hopkins, Hope Davis and Jake Gyllenhaal. The university's production is being directed by Rodney Hudson, who directed "Possessing Harriet" for the university last winter.
"'Proof' is a great way to start the season off because it's small in cast, but large in meaning," Conley said. "The play centers around Catherine, who is dealing with the death of her father, a once-brilliant mathematician who also faced mental health challenges. The actors have to be familiar with high-level mathematical logic, psychological/mental illness, and some are playing characters that are quite a bit older than they are."
Theatergoers can expect to keep seeing quality performances courtesy of SUNY Cortland's actors and stage crew. Conley notes that the Performing Arts Department is working on a new musical, "Bone Harp," and that well-known shows "Seussical" and "Cabaret" are scheduled for next spring.
Tickets for all shows will be available through the SUNY Cortland Box Office. Fans can learn more about the SUNY Cortland Performing Arts Department and its full performance schedule for the 2022-23 season online.
---