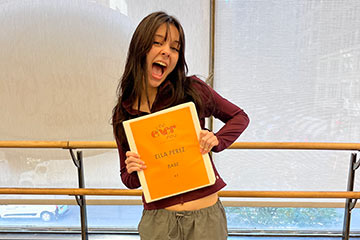 11/06/2023

Sonny and Cher sang "I Got You Babe" to the top of the charts in the 1960s. Now, Ella Perez '23 gets to be Babe — the 19-year-old version of a future superstar — in a life-changing chance to perform across the country in "The Cher Show."
Perez will star in the national tour as "Babe Cher," a character that represents the early career of the cultural icon, and one of three lead roles in the musical. Rehearsals began Oct. 23.
"It's been amazing," Perez said. "I have to say I was very intimidated by the schedule. It's an 8-hour day, six days a week, which is something I've never done before. But the energy in the room and the cast are great, and everyone is just so wonderful to be around and makes it as easy as it possibly could be."
The musical follows the world-famous music, television and movie star through six decades of her career and 35 hit songs. Debuting on Broadway in 2018, the new traveling production will visit more than 50 cities through next year.
Perez won't be the only Red Dragon audiences will see. Liz Davis '20, a former musical theatre major, has been cast in a swing and understudy role.
Most of the creative team are women which, Perez said, adds to a warm environment that helps with the challenge of beginning her professional career with a national lead role.
"I get to walk around with pop star glitter and the most insane costumes ever. And I have two other incredible women learning the show with me. They're so amazing and so supportive. It's very girl power, which I love."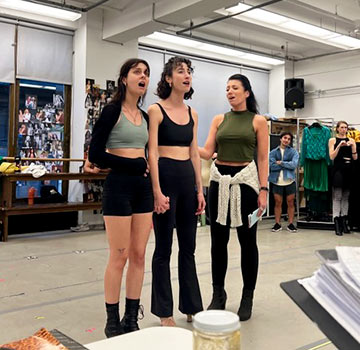 Perez sent in her resume for the production before graduating last May, hearing back a month later. The auditions that followed were an exhaustive cycle of callbacks and tryouts that took Perez back and forth between New York City and her home in Merrick on Long Island.
Among the most surreal moments, Perez said, was walking into a room of similar-looking actors with the same height and hair color who all wanted the same role of a young Cher. What followed was a grinding casting process designed to make actors prove themselves time and again.
At one point, Perez was asked to return to New York to try a new song. Having already left the city for the day, she doubled back while still on the Long Island Railroad, using her time to memorize the music's notes and words.
"By the time I had gone back they'd seen all the girls in the morning, so it's just me in the holding room with a bunch of guys," Perez said. "I was the only girl that they asked to come back, at least that's what I saw. That kind of made me think they were actually, really considering me for this."
In mid-August, she got the call from her agent she'd been waiting for.
"I answer half asleep and she says 'Hey, I have great news. You got Cher, you got, Babe.' I shot up in bed and immediately started walking around my house, I was just doing laps around my house on the phone."
It was difficult to believe.
"I was really banking on that part, but there was just no way that I was going to book a lead role in the national tour right out of school. I thought, 'That doesn't happen to people. Let me be realistic with myself.' I was expecting an understudy moment or a featured dancer moment. But I got the actual thing. It was a crazy experience."
Perez said she looks up to Cher as a self-made star who, like her, began as a shy performer before gaining confidence. After starting rehearsals, she's gotten more comfortable with a routine unlike any she's done before.
"It's been the best week of my life so far," she said.
Perez first fell in love with theater after watching a revival of Anything Goes on Broadway as a kid.
"I remember the dancing and music," she said. "It's one of the classic Golden Age musical theater pieces that make you really feel something. You get so excited watching everyone up there having so much fun doing tap dancing with glittering costumes. I remember looking up at that stage and thinking I would do anything to be up there right now doing that, let alone that being my career."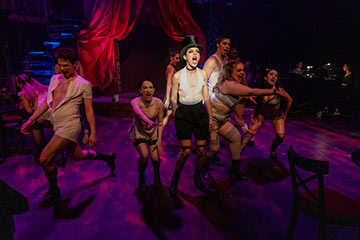 Knowing what she wanted didn't make it easy. At the start of her time at SUNY Cortland, Perez was hesitant, believing she had more talent as a dancer than a singer. The support she found in the Performing Arts Department, including Lecturer Lynn Craver, built new confidence.
"I was asking, 'Is this really what I want to do? Everyone around me is so talented and I'm so unsure of myself. I don't know if I'm going to survive.' But throughout my years there I grew into myself. I had the most amazing voice teacher, Lynn, who has brought my voice to a point I never in a million years thought I could get to. I'm singing things and singing roles my freshman self would not believe."
Another help was the SUNY Cortland Showcase. Perez says the annual Performing Arts Department event helped her find an agent. Having that aid in handling the business side of show business let her focus solely on performing.
Her favorite role as a Cortland student — the Emcee in "Cabaret" — was also her last. She credited Associate Professor Deena Conley, chair of the Performing Ars Department for casting her and directing the show. The demanding lead part was a satisfying acknowledgement of her change into a different level of performer. Now, much like one of Cher's famous singles, Perez says you need to "Believe" to have a chance as a theater professional.
"A lot of the time your inner dialogue is going to be your worst critic and your worst enemy," she said. "You have to truly, genuinely believe in yourself and believe that this is something you could do. Walk into each audition like you have the part already, like you already know that this is something you could do. That's how you have to carry yourself, and it's really hard to do that. But it's an energy that you have to exude."
For tickets and more information, visit TheCherShowTour.com.
---