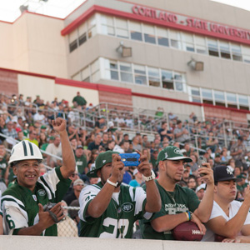 07/18/2014

There will be a lot more than professional football going on when the New York Jets begin summer training camp on SUNY Cortland's campus next week. The team is making several fan-friendly additions to its three-week practice schedule in 2014, including special theme days and a new-look Green and White Practice.
The team's Green and White Practice — the evening event that has become an annual attraction for Central New York families — is scheduled for 7 p.m. on Saturday, Aug. 2, with gates opening at 5 p.m.
At the most popular practice of training camp, the team will attempt to replicate the atmosphere of a regular season game at MetLife Stadium, including a t-shirt toss and performances by the New York Jets Aviators drum line and the Flight Crew cheerleaders. The team is also planning a post-practice fireworks show.
The team will also host a "Taste of Cortland" event on Friday, Aug. 1, with a handful of local eateries offering free food samples; Mascot Day on Monday, Aug. 11, featuring several mascots from throughout Central New York; and a military appreciation day on a date to be determined.
Fans can expect to see more at training camp this year, including a multi-player video game trailer several days over the three weeks. This, of course, is in addition to Jets Fest, the interactive theme park featuring skill challenges and inflatable children's rides that has entertained fans for the past four SUNY Cortland training camps.
Check the SUNY Cortland website's Jets Training Camp page for scheduling updates and event details.
Practice is scheduled for 10 a.m. to noon for every public practice, with the exception of the Green and White Practice. The Jets Shop merchandise tent, Jets Fest and training camp gates are open from 9 a.m. to 1 p.m. for most practices and from 5 to 9:30 p.m. for the Green and White Practice.
Admission remains free, with tickets printed from the Jets website required.
Fans should call the team's fan line at 973-549-4844 or visit the team's Training Camp page for the most up-to-date news regarding practice schedules. Updates also are available on Twitter and Facebook.
The 2014 camp will be the fifth Cortland camp under six-year head coach Rex Ryan. Last summer, 21,000 training camp visitors from 34 states and five countries spent more than $1.6 million locally, creating an economic impact of nearly $3.7 million, according to a study by SUNY Cortland faculty members. Together, the four New York Jets training camps hosted at SUNY Cortland since 2009 have generated $19.24 million in economic impact for Cortland County.
---