News Detail
02/17/2023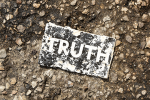 A SUNY Cortland Distinguished Teaching Professor of geology will explore how scientific theory and testing can help people figure out what is and isn't true during a lecture on Wednesday, Feb. 22, at SUNY Cortland.
Robert Darling, SUNY Distinguished Teaching Professor of geology at SUNY Cortland, will share the hallmarks of scientific practice that lead to discovery in his talk, "Science and Truth: Ignorance is the Objective," at 4:30 p.m. in Moffett Center, Room 115.
A reception to welcome Darling precedes the talk at 4 p.m. in the adjacent Brooks Museum.
The talk continues the university's yearlong 2022-23 Rozanne M. Brooks Lecture Series on the theme of "The Culture of Truth." The series of talks and accompanying receptions are free and open to the public.
Seating will be limited and cannot be exceeded so please come early to secure a seat.
"We'll discuss what motivates and drives scientific research, and the ultimate goal of scientific pursuit," Darling said. "We'll discuss scientific theory and the critical role of testing. Lastly, we'll review the language of scientific communication to discern between 'belief' and 'accepting facts.'"
Also, this spring:
Jeremy Jiménez, an assistant professor in SUNY Cortland's Foundations and Social Advocacy Department, will give a talk on March 22 titled "Don't say 'It's going to be okay': Learning and Teaching in the Age of Climate Collapse," based on his late 2019 survey and focus group interviews with more than 300 students at two international schools in Singapore.
Adam Laats, an assistant professor in Binghamton University's Department of Teaching, Learning and Educational Leadership, will explain why the creationism culture wars never end on April 12, in a presentation called "Evolution and All That: Why Americans Can't Stop Fighting about Creationism."
In the last couple years, Americans have reopened disputes about ideas that once seemed settled.
Books and topics are being banned in classrooms, social and news media is plagued by misinformation that is swallowed by many, and the reality of the very science that underpins much of the modern industrial world has come into question.
Over the last decade, "truth" has seemed to become a rare resource, said Brooks lecture series organizer and Brooks Museum director Sharon Steadman, a SUNY Distinguished professor and chair of SUNY Cortland's Sociology/Anthropology Department.
"The Brooks Lecture Series this year investigates why truth seems so fleeting in today's world, but also where we might find it in the most surprising places," Steadman said.
The Brooks Series honors the late Distinguished Teaching Professor of sociology and anthropology emerita at SUNY Cortland Rozanne M. Brooks, whose donated special collection of ethnographic objects to the Sociology/Anthropology Department established the Brooks Museum in 2001.
The 2022-23 Brooks Lecture Series is sponsored by the Cortland College Foundation and Cortland Auxiliary. For more information, contact Steadman at 607-753-2308.
---