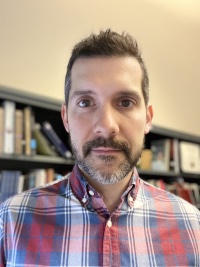 Daniel Radus
---
Dan Radus is an Associate Professor of English at SUNY Cortland, where he also serves as coordinator for the Master of Arts (M.A.) in English Graduate Program and the Native American Studies Program.
Radus specializes in eighteenth- and nineteenth-century Indigenous literatures in North America, with particular interests in Indigenous historical writing, book history, print culture, and materialism. His current project, "Indigenizing the Book," considers a series of eighteenth- and nineteenth-century books that have been inscribed, embellished, or otherwise altered by Indigenous readers, writers, and artists.
Radus is a Senior Fellow in the Andrew W. Mellon Society of Fellows in Critical Bibliography at Rare Book School, University of Virginia, and his scholarship has been supported by fellowships at the American Antiquarian Society and the Newberry Library. His work has been published in American Literature, Studies in American Indian Literatures, Early American Literature, and Criticism.
At Cortland, Radus teaches courses in the Indigenous literatures of North America as well as in eighteenth- and nineteenth-century American literatures. He is the recipient of two college-wide awards for teaching: the Tenure-Track Excellence in Teaching Award (2020) and the Steven J. Barnes Outstanding Faculty Member Award (2021).
A recent CV is available at this link.
Education
Ph. D., English Language and Literature, Cornell University, 2017
M.A., English Language and Literature, Cornell University, 2013
M.A., English, Pennsylvania State University, 2010
B.A., English Language and Literature, Cornell University, 2008