News Detail
01/26/2021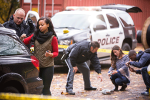 Danielle Jaghab, a senior criminology major from Bellmore, N.Y., wants to dedicate her life to improving the way police and community members relate to one another.
She got off to a good start last semester when she and her class helped two local police agencies review their performance in response to Gov. Andrew Cuomo's executive order requiring all departments to review their policies and procedures in the wake of public outcry created by police killings of unarmed people of color.
Last summer, the Cortland City Police Department and the Cortland County Sheriff's Office asked Assistant Professor of Sociology/Anthropology Mary Cannito-Coville to help them assess the quality of their interactions with members of the public. Cannito-Coville developed a survey with the help of Jaghab and other students in her Criminology or Sociology 333/The Police course, which focuses on the role of police in society.
Safety concerns related to COVID-19 prevented students from talking directly with members of the community, but they helped shape and fine tune the survey; partly by taking an early version of it themselves.
The students took the survey before it was released to the public, Cannito-Coville said.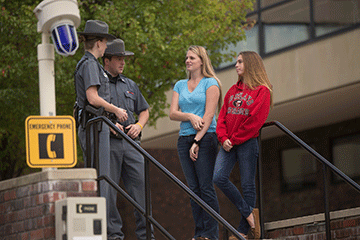 "And these students are studying policing for the course, so they were able to offer content feedback for that. If people feel bogged down by questions, they are less likely to answer them, so my students were able to offer some feedback on avoiding that."
Once the survey was complete, a random sampling of local residents received an introductory letter asking them to go online to complete the survey or request a paper one in the mail. The information gathering wrapped up on Jan. 22.
"I think it's a great addition to what we're doing for the executive order. It was just kind of perfect timing," said Mark Helms, Cortland County sheriff. "I think most of us in law enforcement are trying to think of ways to connect with the public, and we can't keep talking to the same people all the time."
Cuomo issued Executive Order No. 203: New York State Police Reform and Reinvention Collaborative, in response to national outrage following the police-involved death on May 25, 2020 of George Floyd in Minnesota as well as other lost lives that have energized the Black Lives Matter movement.
"These incidents prompted Gov. Cuomo to ask all agencies to look at their policies and procedures and come up with a plan to address racial bias and systemic inequalities," Cannito-Coville said.
"We needed to act fairly quickly on this as the final assessment and report is due on April 1," Cannito-Coville said.
Cannito-Coville, who joined the university at the end of August, most recently has taught, since 2018, at The College of New Jersey, in the departments of criminology and African American studies. She has a Doctor of Philosophy in Cultural Foundations of Education from Syracuse University, where her dissertation was titled "Targeted: Young Black Men, Schools and the Consequences of Anti-gang Policing." At Cortland, Cannito-Coville also serves as a faculty associate in the Africana Studies Department.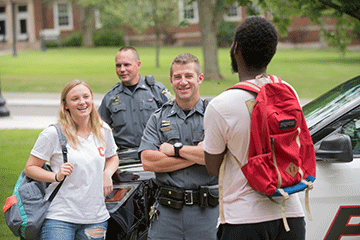 The content of her course aims to give students from all majors a deep dive into what to look for in community policing, so bringing the students in seemed natural.
"When we look at the sociological and historical aspects of policing, I encourage my students to look closely at marginalized experiences with policing," Cannito-Coville said.
"We examine the impacts of bias and how that manifests in differences in law enforcement: how we see this impact in traffic enforcements, in school enforcements, in larger communities."
Jaghab looks forward to completing a second hands-on learning opportunity this spring learning about advocating between minorities and the police as an intern with Citizen Action, Justice and Unity for the Southern Tier in Binghamton, N.Y. She plans to pursue graduate studies at John Jay College's criminal justice program after graduating from SUNY Cortland in May.
"I do want to see change in our society," Jaghab said.
"Ultimately I hope to concentrate on private investigations with the hope of once again trying to get justice for people, to ensure that everyone is correctly doing their job," Jaghab said.
"This first internship gave me an eye-opening experience to how the police departments — especially in Cortland County — want to reform," Jaghab said. "They are definitely more community-driven than most police departments. I definitely want that community input to see how the justice departments are working.
"I want to get to know the community and what they feel is fair and just and how to ensure they can trust the police and work together to create a better neighborhood. As I go forward with my career and become a criminologist, I want to allow myself to have that personal connection with them."
---