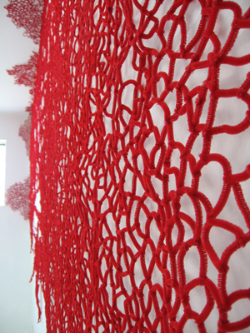 08/29/2012

The work of the contemporary Brooklyn, N.Y.-based artists Wennie Huang and Shari Diamond will be showcased in the first exhibition on view in Dowd Gallery's temporary off-campus location at Main Street SUNY Cortland, 9 Main Street.
The College's gallery will be based on the third floor of Main Street SUNY Cortland for approximately two years while the Dowd Fine Arts Center undergoes renovations.
The exhibition, "Remembered/Re-imagined," which is divided into two sections based on the theme of remembered and reimagined community, will be on view from Tuesday, Aug. 28 until Saturday, Oct. 20.
Sponsored in part by the College's Institute for Civic Engagement, the exhibition and all events are free and open to the public. Gallery hours are 10 a.m. to 6 p.m. from Tuesday through Friday and 10 a.m. to 2 p.m. on Saturday. The gallery is closed on Sunday and Monday.
An opening reception will be held from 4 p.m. to 6 p.m. on Thursday, Sept. 6.
A Cortland native and installation artist, Huang currently teaches at Parsons The New School of Design. Her work deals with issues of identity and memory.
Her unconventional gallery talk titled "A Virtual Conversation with the Artist: Wennie Huang" will take place at 5 p.m. on Wednesday, Sept. 19. The event will feature a "partially performative video call" from the artist in Brooklyn. Her father, Ter Jenq Huang, is a professor in SUNY Cortland's Mathematics Department and will participate in the talk from the gallery.
Shari Diamond is a photographic artist who also teaches at Parsons The New School of Design.
Her gallery talk, "New Ways of Seeing: Jewish-Muslim Relations," will take place at 5 p.m. on Tuesday, Oct. 9. The discussion, featuring Shari Diamond and Sanford Gutman, SUNY Cortland professor emeritus of history, will explore the intersection of art and politics and new ways of looking at Jewish-Muslim relations.
Huang's work, "Helix," is a site-specific installation piece consisting of more than 3,000 red chenille stems woven into a lace-like, creeping ivy that extends from the interior of the gallery through the windows of the historic Beard Building and out into the public realm. This "vine" is reminiscent of the ivy she recalls seeing on some of SUNY Cortland's buildings as a child.
"The red color of the work references the red velvet covers of my mother's treasured family photo albums from Taiwan," Huang said.
The Dowd Gallery exibition "Remembered/Re-imagined" will feature artwork by Shari Diamond, including the photograph "Re Imagining Relations, no.15," and installation work by Wennie Huang, including her 2011 piece "Red Sprawl," shown in detail above left.
As a second-generation Asian-American, she is interested in the impact of cultural myths on her own social inheritance.
In "Summoning the Ghosts," Huang refers to the history of the Beard Building itself, which housed an undertaking business in the 19th century. This installation features rows of cast paper feet arranged to suggest the placement of tombstones within a cemetery.
Diamond's work offers a glimpse into a reimagined Jewish-Muslim community and was inspired by a group of Muslims who risked their lives in Paris during the German occupation of France to rescue Jews.
Diamond digitally combines large-scale photographic imagery of synagogues and mosques in Paris and Istanbul to seek out and highlight similarities between the two groups.
"These seamless montages dissolve borders and create new spaces in which reimagined realities of coexistence, respect and exchange are possible," Diamond explains. "The ceremonial implements and symbols unique to each religion, along with its distinctly attired followers, appear before the viewer in unity under one roof."
Diamond's lifelike presentation readily allows the visualization of what could be and makes the previously unattainable suddenly seem feasible. Through her work, she aims to inspire a fresh dialogue regarding the elimination of boundaries, the preservation of humanity and the encouragement of empathy in Jewish-Muslim relations.
Group tours are available. Contact Gallery Director Erika Fowler-Decatur at (607) 753-4216.
---