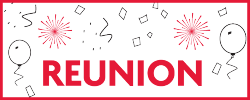 07/10/2012

Nearly 600 alumni and friends will enjoy class get-togethers, parties and other activities on campus and at the Lynne Parks '68 SUNY Cortland Alumni House from Thursday, July 12, through Sunday, July 15, during Alumni Reunion 2012.
"We are excited for another great turnout at our largest alumni event of the year," said Erin Boylan, interim executive director of alumni affairs. "As always, the Parks Alumni House and campus will be the focal points for the majority of events, while community establishments will service many class gatherings. It is sure to give alumni the opportunity to take a walk down memory lane while also seeing the enhancements made to their alma mater."
Reunion opens Thursday, July 12, for the Class of 1957 with a pizza party at the Parks Alumni House. The other reunion classes will begin gathering on Friday, July 13, starting with the Hamilton Building Services Golf Tournament at the Cortland Country Club. The Classes of 1952, 1957 and 1962 will enjoy a boat cruise on one of the Finger Lakes.
Also on Friday afternoon, the SUNY Cortland Alumni Association, the Cortland College Foundation and President Erik J. Bitterbaum will host a special reception for the Reunion Committee members at Brockway Hall Jacobus Lounge. The Class of 1962 will celebrate its 50th reunion with a dinner held at the Parks Alumni House. The featured fraternity, Gamma, and featured sorority, Alpha Sigma Alpha/Alpha Sigma, will begin their weekend with welcome parties. New this year, the Cortland College Foundation will host a welcome reception for all alumni at the Parks Alumni House.
Saturday's events include campus tours, a hike of Hoxie Gorge, classes offered by alumni for alumni and tours of the Parks Alumni House. Participants include the Half Century Club, comprised of alumni who graduated more than 50 years ago; the Classes of 1947, 1952, 1957, 1962, 1967, 1972, 1977, 1982 and 1987; sisters of Alpha Sigma Alpha/Alpha Sigma sorority and Gamma fraternity. Members of Nu Sigma Chi sorority will sponsor an alumnae tea from 11 a.m. to 1 p.m. at their house on 52 Prospect Terrace.
The SUNY Cortland Alumni Association will present its highest honor, the Distinguished Alumna/Alumnus Award, to two graduates during the Alumni Reunion 2012 luncheon. One alumnus will be honored with a Distinguished Young Alumni award. The luncheon begins Saturday at noon in the Corey Union Function Room and honors reunion classes and award recipients.
The 2012 Distinguished Alumni Award recipients are:
• Lawrence W. Fielding '66, a professor of sport management and sport history at Indiana University who was named a research fellow by the North American Society for Sport Management.
• James T. Costa '85, a professor of biology at Western Carolina University who serves as executive director of the Highlands Biological Station.
The 2012 Distinguished Young Alumnus Award recipient is:
• Michael C. Draper '03, a Massapequa (N.Y.) School District educator who is behind the successful peer mentoring program The Senior Nation.
Immediately following the luncheon, the fun shifts downtown. For the third time, alumni can participate in Cortland Downtown Partnership's "Taste of Downtown." Participants will enjoy food and beverage samples from more than 20 city eateries, listen to musical performances and receive a commemorative wine glass. The Nu Sigma Chi Legacy Fund will again underwrite an All-Greek Reception at the Parks Alumni House.
Individual class dinners will be held Saturday evening at various campus and downtown locations. Alpha Sigma Alpha/Alpha Sigma sorority and Gamma fraternity will celebrate their reunions with dinners planned by reunion committees at the Parks Alumni House.
On Sunday, a farewell breakfast is scheduled for 9 to 11 a.m. at the Parks Alumni House. Alpha Sigma Alpha/Alpha Sigma sorority and Gamma fraternity will enjoy breakfasts in Brockway Hall. Before departing, Gamma fraternity will tour their former fraternity house.
The campus community is encouraged to attend Alumni Reunion 2012. For more information or to register for the weekend, contact the Alumni Affairs Office at (607) 753-2516 or visit the website.
---