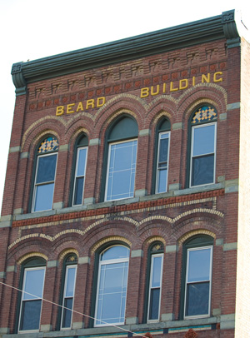 09/23/2013

Looking across the globe, a pioneering SUNY Cortland new media design class is proving that imitation is the highest form of flattery.
Eleven students who created a brand-new interactive media exhibition will participate in a video conversation with Simon Høgsberg, the Denmark-based artist who inspired their work, at 5:30 p.m. Tuesday, Sept. 24, at Main Street SUNY Cortland, located at 9 Main St.
The event, which is free and open to the public, will include a presentation by the students, a question-and-answer session and a reception.
Their work remains on display in the Beard Gallery, located on the first floor of Main Street SUNY Cortland, through Tuesday, Oct. 1. Høgsberg, who will communicate from Copenhagen, is one of two contributing artists to the Dowd Gallery's current exhibition, "Connective Existence: Paintings by Lin Price and Projects by Simon Høgsberg," which runs through Thursday, Oct. 3, on the third floor of the same building.
New media design majors install the Interactive Media
Student Exhibition at Beard Gallery. Their artwork will
be on display through Tuesday, Oct. 1.
Quite simply, the class multimedia project has given meaning to notions of learning by doing and international education.
"The students need to see what people are doing," said Martine Barnaby, an associate professor of new media design who teaches the course. "And it's nice because Simon's work mixes a lot of different media."
Inspired by two of Høgsberg's most popular photography-based pieces, the SUNY Cortland students created a final product that shows many different faces from the Cortland community and tells their many different stories. The interactive exhibition blends photography, text and sound.
Høgsberg's "The Thought Project" is an interactive display that includes 55 portraits of people he stopped on the street in Copenhagen and New York City along with the transcribed text of their immediate responses. "We're All Gonna Die," the second source of inspiration, is a 100-meter long image Høgsberg created by snapping photographs from the same spot on a railroad bridge in Berlin over the course of 20 days.
Working as a group, the College students stopped people walking outside Main Street SUNY Cortland, asking questions about self and community perceptions. The class members used iPads and iPhones to take photos and record sound. Each person had a specific job. One explained the project and another asked the questions; one took photos while a different one logged names, and so on.
All told, more than 30 community members of all ages contributed to the project.
"It was a beautiful collaboration that these students pulled off," Barnaby said.
The class, which meets once a week, turned a successful project around quickly. The students put together a final product inspired by the "We're All Gonna Die" piece that measures roughly 20 feet, tying in edited sound and text transcripts. Three full-length mirrors also have been positioned to greet Beard Gallery visitors, so that the idea of reflection conveys a sense of self-perception.
In the end, the exhibition digs deeply into the idea of connection — how people view themselves and how they view others.
"For almost all of (the students), this is the first time they've had something exhibited," Barnaby said. "They built it from the ground up and they installed it.
"It's a big deal, it's new to them and it's exciting."
Many different photographs, along with text and sound, comprise the new student exhibition at the Beard Gallery.
---