Maintaining physical distance is one of the best tools both to avoid being exposed to COVID-19 and to slow its spread. Since people can spread the virus before they know they are sick, it is important to stay away from others, even if you or they have no noticeable symptoms. Physical distancing is important to help prevent people from getting sick. Employees working on campus must follow these physical distancing practices:
Stay at least six (6) feet from other people at all times unless safety of the core activity requires shorter distance, such as personal care of an injured or sick individual, lifting or moving that requires multiple persons, etc. Two arms' lengths is a good rule of thumb to approximate this distance.
Avoid gathering in groups.
Avoid more than one person in a confined space such as elevators or vehicles.
Avoid mass gatherings.
Limit in-person gatherings/meetings as much as possible. Utilize Webex or other virtual meeting options whenever possible. If in-person meetings are held, attendees shall be spaced out appropriately and wear their face coverings for the duration of the meeting.
Follow directional signage for the flow of traffic to reduce frequency of close passing.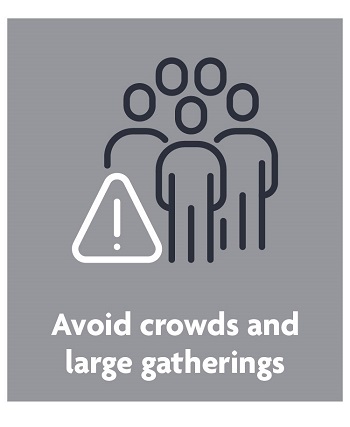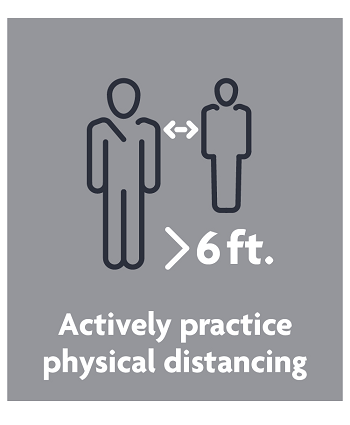 In response to the COVID-19 pandemic, SUNY Cortland has adopted a Face Covering and Mask Requirements Policy. This policy highlights the protections that are required and implemented to ensure the health and safety of our campus community including students, faculty, staff, visitors and contractors.
All members of the campus community are required to wear face coverings when in direct contact with students, faculty, staff, visitors and contractors, except where doing so would inhibit or otherwise impair that individual's health. Direct contact is when a person leaves their work station and walks about the office space, enters a hallway, transverses a building, or goes outside and has the potential come within six feet of another person.
A face covering is a fabric mask that covers the nose and mouth. It can be secured to the head with ties, straps, ear loops or simply wrapped around the lower face. It can be made of a variety of fabrics, such as cotton, silk or linen. A cloth face covering may be factory-made, sewn by hand or can be improvised from household items such as scarves, T-shirts, sweatshirts or towels. Face coverings should NOT have ventilation ports.
The university will provide three (3) cloth face coverings for all employees. It is the responsibility of employees to maintain their face coverings and have them available each day. Replacements will be available for emergencies or to replace worn or damaged cloth face coverings; however, employees should not expect an endless supply of cloth face coverings to be provided. To ensure their safety, employees should wear cloth face coverings for one (1) day at a time, and then properly launder them before repeat use. Employees may also provide their own, which will help reduce the need for the university to purchase additional face coverings. Disposable masks will also be available to employees by SUNY Cortland, if requested, on a case-by-case basis. Departments/offices have placed orders for supplies to be on hand and additional supplies can be ordered through Central Stores. Disposable masks may only be worn for one (1) day and then must be discarded.
All employees, students and visitors are required to have a cloth face covering readily available on their person (e.g. around neck) when they venture outdoors on campus, and they must put on their face covering when it is NOT feasible to maintain physical distancing measures (i.e. at least 6 feet of separation between others). If sharing a vehicle (work-issued or personal vehicle) for work-related travel, all persons aboard the vehicle shall wear a face covering.
Anyone entering a building must put on a face covering prior to entering the building and to continue to wear the face covering in common areas such as elevators, lobbies, hallways, classrooms, laboratories, restrooms and when traveling around the building and working in shared spaces. Additionally, face coverings are required in common areas of residence halls, dining halls, the Student Life Center, the SUNY Cortland Campus Store and other retail locations and gathering spaces across campus. Face coverings may only be removed when employees are working alone in a cubicle, office or other designated area, following physical distancing guidelines.
Fit snugly but comfortably against the face
Be secured with ties or ear loops
Include multiple layers of fabric
Allow for breathing without restriction
Be able to be laundered and machine-dried without damage or change to shape.
As defined under the Occupational Safety and Health Administration (OSHA), cloth face coverings are not Personal Protective Equipment (PPE). They are worn by a person to prevent community spread from an asymptomatic person. PPE, on the other hand, is equipment worn by people to protect themselves from present or potential hazards and include surgical masks, respirators such as N95s, safety glasses, lab coats, etc.
Employees who are unable to wear a face covering due to a medical condition or other protected reason may submit a request for reasonable accommodation under the ADA.
See details regarding cloth face covering use and care below.
Options for required face coverings
Required for campus community use in non-healthcare settings (office spaces, general work settings, shops, community areas) where 6 feet of physical distancing cannot be consistently maintained. Must be replaced daily. Not required for working alone in office. Required for ingress/egress.
Type

Cloth face covering

Disposable mask
Example
Description
Homemade or commercially manufactured face coverings that are washable and help contain wearer's respiratory emissions
Commercially manufactured masks that help contain wearer's respiratory emissions
PPE face masks for approved personnel
These masks are reserved for healthcare workers and other approved personnel with task-specific hazards determined by SUNY Cortland's Environmental Health and Safety Office. Required for campus community use in non-healthcare settings (office spaces, general work settings, shops, community areas) where 6 feet of physical distancing cannot be consistently maintained. Must be replaced daily. Not required for working alone in office. Required for ingress/egress.
Type

Medical-grade surgical mask

N95 respirator
Example
Description
FDA-approved masks to protect the wearer from large droplets and splashes; helps contain wearer's respiratory emissions
Provides effective respiratory protection from airborne particles and aerosols; helps contain wearer's respiratory emissions
Cloth face coverings assist people who may have the virus without being aware of it from spreading the disease. Wearing of cloth face coverings also aids in slowing the spread of the virus. The Centers for Disease Control and Prevention (CDC) advises the use of simple cloth face coverings to prevent transmitting diseases to others. Furthermore, it is important to observe the following guidance:
Wear a cloth face covering in public settings where other social distancing measures are difficult to maintain. This action will help slow the spread of the virus.
If you are using a disposable face mask, it is important to understand that they are intended to be worn for a limited period of time. Disposable masks should be replaced after one (1) day of continuous use or if it becomes damaged or soiled.
It is critical to emphasize the need to maintain 6-feet social distancing even while wearing a cloth face covering to further slow the spread of the virus.
Individuals may wear their own store-bought or homemade cloth face covering or a scarf or bandana if they so choose. Instructions on making a cloth covering can be found at Centers for Disease Control and Prevention

.

Cloth face coverings are preferred over disposable masks since they can be easily washed and reused. This will also cut down on the demand for a critical resource that is used by healthcare workers and first responders.
Use reusable face coverings and masks until they become damaged, soiled or wet. A damaged covering should be disposed of.
Keep a backup covering or mask available.
Do not use a mask with a vent as it releases unfiltered air to the environment.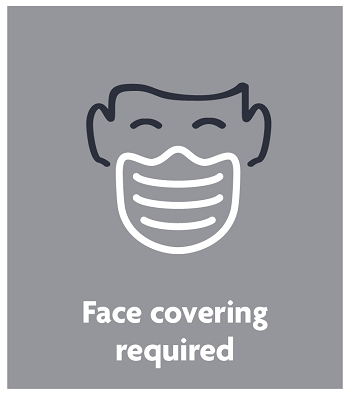 How to wear a cloth face covering
Wash your hands with soap and water for at least 20 seconds.
If the cloth face covering has ear loops, put one loop around each ear.
If the cloth face covering has ties, pick up the cloth face covering by the ties and tie the upper ties behind your head with a bow.
If the cloth face covering has a lower tie, then once the cloth face covering is fitted to the bridge of your nose, tie the lower ties behind your head with a bow.
Make sure the cloth face covering is completely secure. Make sure it covers your nose and mouth so that the bottom edge is under your chin.
Wash your hands with soap and water for at least 20 seconds.
How to remove the cloth face covering
Wash your hands before removing the cloth face covering.
Do not touch the inside of the cloth face covering (the part over nose and mouth). It may be contaminated from your breathing, coughing or sneezing.
Untie or remove the ear loops and remove the cloth face covering by the straps.
Wash after use in the washing machine with hot water and completely dry on medium or high heat in the dryer.
An employee (Employee A) may experience a situation where another employee (Employee B) is not following our face covering requirements. Employee B may be trying to enter a workspace, office, elevator, conference room, etc. or otherwise interacting with Employee A closer than physical distancing requirements. Employee A has the right to request Employee B to don their mask or to refuse service to Employee B and ask them to leave the area. If Employee B refuses to don their mask, or repeatedly fails to follow protocol, please report Employee B to their supervisor and/or to Human Resources. It is anticipated that no employee or student will be provided an accommodation eliminating the need to wear any face covering or mask while in the workplace and interacting with others.
Specific procedures are being identified for similar situations involving students and will be disseminated by the Student Conduct Office.
A face shield is predominately used for eye protection and is defined as a protector intended to shield the wearer's face, or portions thereof, from certain hazards, as indicated by the face shield's markings and shall not be considered a routine alternative to a cloth face covering. However, it has been determined by the Cortland County Health Department that a face shield may be appropriate in certain circumstances related to COVID-19.
For employees who are unable to wear a cloth face covering due to health reasons, a face shield may be an appropriate reasonable accommodation; please contact Jennifer Eckert-Dennison, human resources associate and designee for reasonable accommodations, at jennifer.eckertdennison@cortland.edu or 607-753-2302. She will work with the employee to evaluate the specific circumstances, work context and alternatives.
It will be acceptable to wear a face shield within a standard classroom setting, where physical distancing is greater than 6 feet. This allows an instructor to present material and allow students to read lips and see the instructor's face. However, once the classroom lecture is over, the instructor shall immediately put on a cloth face covering or mask to directly interact with students or to leave the classroom.
Face shields in any other circumstance shall be worn with a face covering, such as a medical mask or a cloth face covering. Face shields without a face covering are not acceptable for usage in laboratories, studios, offices, hallways or any other situation where the instructor or occupant frequently is within six feet of students, faculty, staff, visitors and contractors.
Face shields shall be sanitized immediately after use. The face shield shall be cleaned with a suitable sanitizer by spraying the entire face shield, wiping with a paper towel and allowing the sanitizer to air dry. Store the face shield in a location where it will not be scratched or damaged. Ensure that the band that holds the face shield to the head is not damaged or worn prior to wearing.
Employees should wash their hands often with soap and water for at least 20 seconds, especially after being in a public place, or after blowing their nose, coughing, sneezing or touching their face. If soap and water are not readily available, use a hand sanitizer provided by the campus or one that contains at least 60% alcohol, covering all surfaces of the hands and rubbing them together until they feel dry. Employees should avoid touching their face whenever possible, and if they do, should wash their hands afterward.
Note on use of disposable gloves: According to the CDC, gloves are not necessary for general use and do not replace good hand hygiene. Washing hands often is considered the best practice for common everyday tasks.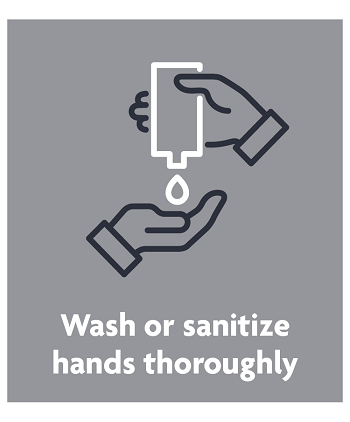 While Custodial Services will continue to clean and disinfect frequently touched surfaces (e.g. door handles, sink handles, water bottle refill stations, grab bars, hand railings, bathroom stalls and dining hall tables) based on CDC guidelines, all employees should take an active role in helping keep their workplaces clean and sanitized. Employees should wipe down commonly used surfaces. Before starting work and before leaving any room in which an employee has been working, they should wipe down all work areas with EPA-registered disinfectant provided by the university. This includes any shared-space location or equipment (e.g. copiers, printers, computers, A/V and other electrical equipment, coffee makers, desks, tables, etc.). Departments/offices have placed orders to have a supply of these items on hand. Additional items can be ordered from Central Stores.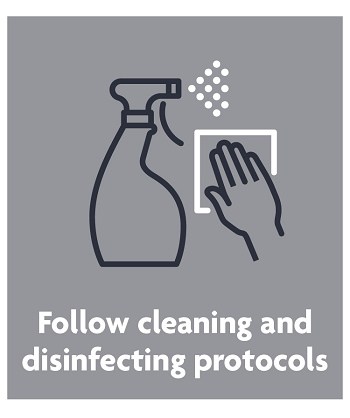 When sneezing or coughing, employees should cover their mouths and noses with a tissue or use the insides of their elbows. Used tissues should be thrown in the trash immediately, and the employees should wash their hands. If soap and water are not readily available, hand sanitizer that contains at least 60% alcohol is an acceptable substitute.
During the COVID-19 public health emergency, individuals can take the following steps to manage stress and anxiety levels:
Manage information flow by choosing reliable sources and establish boundaries on checking for updates.
If you have children, help your school-aged children and adolescents set boundaries on their information flow in the same manner as setting personal boundaries and assure children that it is OK to feel scared or anxious.
Practice good self-care by exercising, eating healthy foods, practicing mindfulness, sleeping enough at night and going outside when possible.
Seek peer support to stay connected. Seek those who understand your experiences and can help problem-solve
Facilitate ways to maintain social connections: personal, family and friends. This might include technological assistance or coordinating times with others to physically check in on vulnerable individuals
The Employee Assistance Program (EAP) is available to offer emotional support and resources during this stressful period. Obtaining EAP services is as easy as making a phone call. Coordinators will connect employees to the services they need, professionally and confidentially. For further information, contact one of the SUNY Cortland EAP coordinators:
Tina Aversano: 607-753-2446
Lynda Shute: 607-753-2214
24-hour voicemail will accept messages: 607-753-5777
24/7 EAP hotline: 1-800-822-0244.