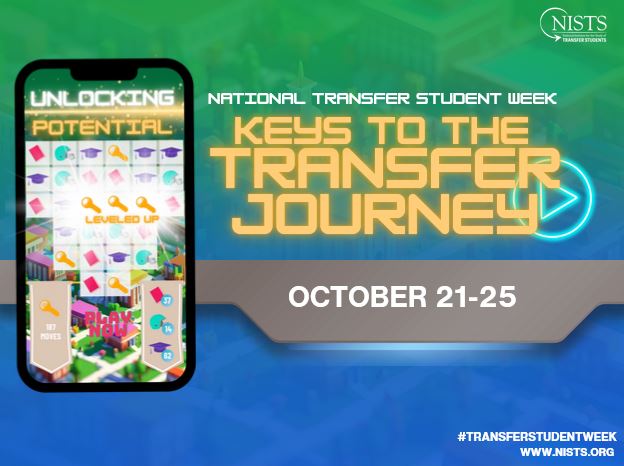 National Transfer and Non-Traditional Student Week
October 23-27, 2023
#CortlandTransfers #TransferStudentWeek
For each transfer journey that leads a student to Cortland, our campus community is ready to support students' success. Join us for a fun week of events to celebrate YOU!
Event Schedule
Non-Traditional Student Organization Tabling
Monday, October 23 from 11:30-1:30 p.m. in the Student Life Center Lobby
Stop by and meet other non-traditional students from the Non-Traditional Student Organization, funded through the Student Government Association (SGA). See what is being planned for the year and how you can get involved.

Scholarship 101
Monday, October 23 from 2-3 p.m. in Old Main, Room B-17A
Cortland provides more than $1 million in scholarship assistance to more than 1000 students. Learn how to navigate the application process, see which scholarships you may be eligible for, and how to apply when they open up on November 15. Cortland has scholarships specifically for transfer and non-traditional students!
Pizza and Wings in the Non-Traditional Student Lounge
Tuesday, October 24 from noon to 1:30 p.m.
The Non-Traditional Student Lounge is located in Cornish Hall, Room 1221. Come meet other adult students during lunch.
Advising and Registration Prep
Tuesday, October 24 from 3-4 p.m. in the Advisement and Transition Conference Room, Memorial Library Room A-111
Advising and registration at Cortland will look different than your previous institution. This session is designed to help you navigate the resources that are provided to you and help you plan for your meeting with your academic advisor prior to your registration date.
Study Abroad 101
Wednesday, October 25 at 3 p.m. in Old Main, Room 220 (Colloquium)
Learn all about how to get started with the Study Abroad process. Find out how to search for programs, identify courses to take abroad, get your courses approved, understand program costs, apply for scholarships, and more!
Transfer Fall Festival sponsored by Tau Sigma National Honor Society
October 25, 4 to 6 p.m. in Corey 209
De-stress from midterms and join us for some fall fun! Make a festive sign, paint a pumpkin, and meet other transfer and non-traditional students. Tau Sigma is the national honor society specifically for transfer students. Are you a new student this fall semester? Come and learn about the requirements to be invited to join Tau Sigma and get involved now!

Planetarium Show
October 25, 6:30 p.m. in Bowers Hall
Come enjoy a fantastic, eye-gazing show at our planetarium! Families welcome. For more information about the planetarium, please check out their website.
Take a Transfer Student for Donuts
11 a.m. to 2 p.m. at Newmark Pavilion (while supplies last)
That fall chill is in the air! Enjoy some donuts and cider and connect with a faculty or staff member who has recognized you and wants to help you celebrate the week!
Look out for the following happening across campus this week
Area Decorating Contest sponsored by Tau Sigma
While you are walking around campus this week, be sure to look out for decorated doors from various campus offices in support of National Transfer Student Week. Tau Sigma will be judging these doors and awarding prizes to the winning offices!

Instagram Takeover by the Transfer Network Team
Our Transfer Network Team is taking over the Cortland Advise Instagram page all week! Be on the lookout for pieces of advice, ask them questions, and learn more about the transfer experience at Cortland!

Faculty and Staff Transfer Stories and Transfer Facts
Did you know that many of our faculty and staff here at Cortland were once transfer students! During the week we will spotlight five of our transfer champions and provide transfer facts about our Cortland students. Be sure to follow the main SUNY Cortland Instagram page, as well as Cortland Advise Instagram for stories and facts about our staff, faculty, and students!
What is National Transfer Student Week?
The National Institute for the Study of Transfer Students (NISTS) organizes National Transfer Student Week to celebrate transfer students and the professionals who support them on their journeys.
Today's students are transferring more than ever before. As transfer champions, it's vitally important that we build awareness of common transfer barriers and the diverse student needs and identities within our transfer populations. Although the transition between institutions is inherently complex, we believe that transfer is a good and valuable pathway to bachelor's degree completion.
Join us for this annual event, every third week of October, to challenge assumptions, build empathy, and instill transfer pride on your campus.