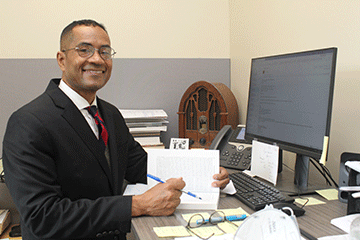 11/08/2022

Michael Tillotson was a junior at Indiana University at Bloomington, on a pathway to becoming a classics scholar, when he encountered not so much as a fork in the road but a dead end.
"When I studied Othello, I think that's the only time I studied any people of color of the world in the classics," recalled the SUNY Cortland associate professor of Africana studies who has been getting a lot of attention lately both in academic circles and as a regular guest professor on the popular WCNY-TV public affairs talk show, "Ivory Tower."
"They did a wonderful job of putting Europe in my head," said Tillotson, adding that he had studied under some of the best classics scholars in the world, including the first person to translate Dante's Inferno from Italian to English, the late Dr. Mark Musa, distinguished professor of the classics.
"They didn't do a job at all of putting the Caribbean basin or the African continent in my head."
Yearning for a more expansive view of the human story, Tillotson beat a new academic career path for himself.
After graduating with a Bachelor of Arts in Classics in Liberal Arts, he held on to those early impressions of the traditional educational mold as he earned a Master of Arts in Africana Studies from the University at Albany and a Ph.D. from Temple University's African American Studies Department, the birthplace of doctoral-level African American studies.
Since Fall 2021, Tillotson has served as the first full-time faculty member in Cortland's Africana Studies Department with a doctorate in the field.
Elected to the board of the National Council for Black Studies, the accrediting body for African American Studies, he currently co-chairs committees on curriculum and the department and program assessment.
His first book, Invisible Jim Crow: Contemporary Ideological Threats to the Internal Security of African Americans (2011, Africa World Press, Trenton, N.J.), earned "Best Scholarly Book Award" from the Diopian Institute for Scholarly Advancement in the category of social and political thought.
Moreover, popularity is growing in academia for Tillotson's Agency Reduction Formation theory, as set forth in Invisible Jim Crow, which was released soon after he had completed a post-doctoral fellowship in the African American Studies program at the University of Houston.
The theory's operational definition is, "Any system of thought that distracts, neutralizes or reduces the need and desire for assertive collective agency by African Americans is an agency reduction formation."
Comprehensively, it is the pursuit of agency that drove the resistance movements by African people from the time of European colonization to the protest summer of 2020 and going forward, Tillotson explained.
"Broadly speaking, there is an urgency to understand — from a theory-building standpoint — systems of thought anchored in bad faith that work against the interests of Africana people," he said.
"Therefore, it is imperative that not only the history of this reality be studied and taught, but also a cogent theory be developed by Africana studies scholars to bring attention to the phenomena that have made the various forms of enduring oppression possible."
Tillotson said many Africana studies scholars have adopted his theory in recent years to the extent that at least five doctoral candidates based their dissertation on his concept.
For one example, Cherise Burden Stelly, associate professor of Africana studies at Wayne State University, chose Tillotson's theory as the platform to launch her article, "Black Cold War Liberalism as an Agency Reduction Formation During the Late 1940s and Early 1950s," which appeared in the peer-reviewed International Journal of Africana Studies.
Since Invisible Jim Crow, Tillotson has broadened his research to encompass the worldwide Africana experience in more than a dozen peer-reviewed articles in leading Africana studies journals.
On April 21, his innovative scholarship was the centerpiece of a one-day symposium with 17 presenters at Indiana University in Bloomington, hosted by the institution's African American and African Diaspora Studies Department.
To Tillotson's delight, three additional academic conferences on his theory are now set at universities, including Temple University, University of Wisconsin at Oshkosh and University of Connecticut; with others in planning stages with Tillotson.
"This is something that rarely occurs in the American Academy," Tillotson said. "Usually, the model is: you write a book, you come in and give a talk, you sign some books, you go to dinner with some nice people and that's it. This is not that model at all."
The theory itself draws on his early broad immersion in world human history.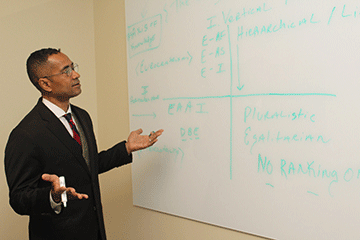 "As I navigated through Africana studies, I started to think about the quality of life for Africana people," he said. "I understood that there were six epochs of oppression: colonialism, enslavement, Jim Crow, apartheid, de facto and de jure."
These six epochs of oppression had placed some Africana people in four "locations of crisis": hermeneutical, that is, trying to figure out the nature of scripture and the divine; ontological, which is trying to figure out the nature of their being; axiological, namely, trying to figure out if this place called America has any ethics or values towards them; and existential, or trying to figure out the nature of their existence.
"These anti-egalitarian actions and the particular corollary tragedies are attached to each of these time periods that mark over 400 years of people of African ancestry," Tillotson said.
The gradations and various forms of oppression may be different in each part of the world, Tillotson said.
"But the consistent negative outcomes related to quality-of-life indicators and social indices are attached to the enduring problems associated with the reduction of human agency," he said.
Tillotson also breathes life into his unique take on world affairs every time he joins other upstate New York academics expounding about current events on the 20-year-old regional public television program, WCNY-TV's "Ivory Tower."
On Sept. 16, the recurring panelist participated in the hour-long 20th anniversary segment, complete with live audience (which can be streamed on demand at wcny.org/ivorytower).
He thus maintains SUNY Cortland's high visibility on this program following the departure of longtime commentator Robert Spitzer, SUNY Distinguished Service Professor and SUNY Cortland professor emeritus of political science.
Tillotson focuses his research on the workings of worldview and the intersection of anti-egalitarian ideologies and their influence on the contemporary intra-racial social landscape of African Americans.
He has steadily built up his reputation with many accomplishments. He chaired the research advisory panel at University of Pittsburgh's Center for Race and Social Problems in the School of Social Work and serves on two editorial boards, the journal Race and Social Policy and the Journal of Black Studies. He is a policy analyst and senior research associate at the MKA Institute in Philadelphia.
On the international level, Tillotson served as the U.S. representative from Africana studies to give the Birkbeck University of London's inaugural Black Studies address. He delivered the keynote address to department heads and the scholarly community on the curriculum frameworks essential for developing an Africana studies program in the United Kingdom.
The body of Tillotson's scholarship positions him as a central figure in the Africana studies field and his work to date as an important launch-point for current and future related scholarship.
---