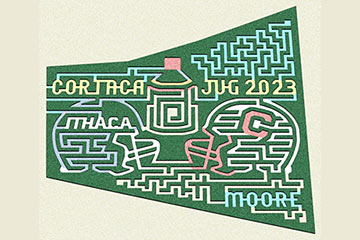 09/12/2023

The Cortaca Jug game has been called exciting, epic and even "the biggest little game in the nation." But corny? Never.
Until now.
This year's corn maze at the Moore Family Farm in Groton, N.Y., is a tribute to the classic football face-off that is Cortaca. A bird's eye view of the maze shows Cortland and Ithaca helmets with the famed jug trophy between them.
"The reason we wanted to have the Cortaca Jug maze theme was to connect with our local community and the rivalry between these local colleges since 1968," said Carrie Moore, one of the owners of the farm. "We are excited for the season and are hosting an attendance battle between the two schools that will start long before the game."
Other attractions include a pumpkin patch, "Jump-O'lantern" jump pad, apple cannon, wagon rides and games like family foosball and trike speedway.
The farm is open to the public from 10 a.m. to 5 p.m. on Saturdays, Sundays and Indigenous Peoples Day from this Saturday, Sept. 16, to Oct. 29. Tickets are $16.95 if bought online and are $19.95 at the gate. Children 2 and under are free.
Moore said that a scoreboard will track the number of Red Dragon and Bomber supporters throughout the season and that using code Cortland'23 will give guests a $2 discount when ordering a ticket online. That code will automatically add that ticket to the SUNY Cortland attendance tally.
The maze itself is a 5-acre tribute to the two universities ahead of the 64th Cortaca Jug, which kicks off at noon on Nov. 11 at Ithaca College's Butterfield Stadium. But don't worry, whether blue or red is your favorite color you'll find some of the Moore family there for support as you find your way.
The farms' Cortland connections include Carrie's brothers Tim Wright '01, who played baseball at Cortland and Jamie Wright M '12. It also includes Eric Hartz '89, M '93, C.A.S. '04, who works both on the farm and as the superintendent of the Newfield (N.Y.) School District, and was a captain of the football team and was an assistant coach of the undefeated 1988 Red Dragon squad.
Ithaca alumni include Carrie's husband, Jason Moore; Jason's mother, Kay Moore, who helped start the farm; Carrie's parents, Geoff and Cindy Wright; and Hartz's nephew, Matt Hartz, who played football as a Bomber.
"My dad played baseball at Ithaca and still helps with the team, so the rivalry between the two schools has been in my family for years," Carrie said.
School pride will shine most brightly on Sept. 30 and Oct. 1, when the farm will have a College Weekend. Visitors showing off their university's colors will get a discount on gate admission.
Other themed weekends include:
Sept. 16 to 17, which is both Grandparents Weekend and Teacher Appreciation Weekend.

Grandparents get free gate admission with a paid grandchild, and teachers and school staff get free gate admission with a school ID.

Sept. 23 to 24, First Responders, Veterans, & Teacher Appreciation Weekend.

F

ree gate admission to guests in those professions with valid ID.
---