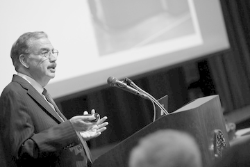 05/30/2022

Dear campus community,
Memorial Day is an important time for us to reflect on the Americans who gave their lives while serving in the United States armed forces.
For those who are remembering a loved one this Memorial Day, please know that my thoughts are with you and your families.
I would like to share a quote from the late Donnal Smith, president of this university from 1943 to 1959, who spoke at a November 1946 ceremony for the 12 people from SUNY Cortland who died in World War II.
"The things for which they fought, the things in which they believed, cannot be belittled," Smith said. "Al Nichols, Alex Zamry, Don West – you say their names a thousand times a day; though they are dead, their memories still live, and their ideals, for us to keep in mind; not by hate, or greed, or bigotry, or selfishness and all the things that make men mean. We have their ideals ever before us; the conquest for the good goes on."
Let us keep their memories alive and let their ideals lead us into the future.
All the best,
Erik J. Bitterbaum
President
---