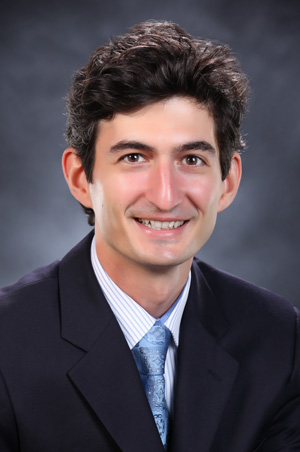 09/11/2013

Alexandru Balas has been appointed as director of the James M. Clark Center for International Education at SUNY Cortland.
Balas, whose teaching experience includes positions held at Loyola University, the University of Vermont, University of Illinois at Urbana Champaign, and the Human Rights Center and Center for Executive and Professional Education at the University for Peace in Costa Rica, also coordinates the College's International Studies Program and teach courses. He joined the faculty at the rank of assistant professor international studies.
The Clark Center for International Education aims to advance international education, service and scholarship on the SUNY Cortland campus. Balas, who began his duties on Sept. 1, reports to the provost and vice president for academic affairs.
He replaces Sharon Steadman, a professor of sociology/anthropology, who continues to teach at the College and direct the College's Rozanne M. Brooks Museum.
"Internationalization of the campus is not only important for the future jobs of our students, improved teaching and research of our faculty, but also for the university as a whole — as it is playing a role in the ranking of universities and in the recruitment of students who realize they need international skills to succeed in the modern world," Balas said.
As Clark Center director he also will seek to promote a full appreciation of and involvement with the global community. He noted that the center is concerned with both on campus and off campus, academic and non-academic programs.
"The center can help faculty members interested in internationalization grants, adding international aspects to their syllabi and curriculum, conducting research abroad, or teaching a joint course with a foreign university," Balas said.
Faculty also can benefit from the activities of the International Advocates and the workshops on international themes organized by the center, he explained.
"For the students, the Clark Center collaborates with faculty members and other offices on campus, such as the International Programs Office, to increase students' involvement in study abroad, and to increase the number of international students studying in Cortland," Balas said.
The center also organizes and sponsors events with an international theme, such as inviting international guest speakers to campus, organizing film series and art exhibitions, he said.
"I believe that the internationalization process needs to be anchored not only at the university but also in the larger community," Balas said. "In that sense, I want to develop outreach programs on internationalization that will allow for partnerships in the larger Cortland community, but also at neighboring universities."
Balas earned his Ph.D. and M.A. in political science in 2011 from the University of Illinois at Urbana Champaign, where he specialized in international relations and comparative politics. His dissertation analyzed three case studies — of Afghanistan, Darfur and Kosovo — and introduced the concept of multiple simultaneous peace operations as well as a typology of cooperation; and mapped the mechanisms of cooperation between peace operations.
Balas also has an M.A. in conflict analysis and resolution from Sabanci University in Istanbul, Turkey, and a B.A. in political science from the University of Bucharest in Romania.
At the University of Illinois, he was honored with the College of Liberal Arts and Sciences Award for Excellence in Undergraduate Teaching. Balas received a Graduate Teacher Certificate and was named four times to a prestigious list of teachers ranked as excellent through the Center For Teaching Excellence.
He has conducted research, most recently as a Sustainability Fellow at the University of Vermont, where from August 2011 to July 2012 he focused on research on international relations and sustainability.
In his most recent teaching role since August 2012, Balas instructed students on political science and international studies in the Department of Political Science and the International Studies Program at Loyola University in Chicago. He organized events for the International Studies Program and served as a faculty member on the Undergraduate Studies and Model United Nations committees.
Previously, during June and July of both 2012 and 2013, Balas lectured on global peace operations and conflict analysis and resolution with the Open Society Foundations' Pre-Academic Summer Program at Bilgi University in Turkey. He also advised Middle Eastern, Central Asian, Afghani and Nepalese graduate students on pursuing studies in U.S. and Indian universities.
During 2007 and 2009, he was a frequent facilitator on West-Arab/Middle Eastern Student Dialogue through the Connect Program of Soliya, a nonprofit organization that uses the Internet to improve inter-cultural understanding between the West and the Muslim world.
Between 2006 and 2008, he was appointed as a United Nations Youth Spokesperson for the Millennium Development Goals by the U.N. Office on Sport for Development and Peace. From 2006 to 2007, Balas served as a lecturer on the Millennium development goals as a delegate of Romania to the United Nations' 61st General Assembly Session. In 2006, he represented Romania's youth, chaired working sessions and wrote draft proposals as a delegate of Romania to the U.N.'s Global Youth Leadership Summit in New York City. He also participated in the U.N.'s European Union Youth Leadership Summit in Vienna, Austria that same year.
Balas is fluent in Romanian, English, French and Italian; proficient in Spanish, Catalan and Turkish; and has basic knowledge of the German, Arabic and Portuguese languages.
He is a member of the Midwest Political Science Association, Peace Science Society and the International Studies Association.
The Clark Center was opened in 2000 under the direction of Distinguished Service Professor Henry Steck, a professor of political science who coordinated the College's International Studies Program from 1989 to 1998. In 2004, the center was renamed in honor of SUNY Cortland President Emeritus James M. Clark, who is credited with positioning the College as a study abroad pioneer within the SUNY system during his presidency from 1979 to 1995.
The center is currently separate from the International Programs Office, which, under the direction of Mary Schlarb, is responsible for education abroad programs, offers services for all of the campus' international students and scholars and provides a host of other services to internationalize the campus.
The Clark Center is located in Old Main, Room 217-C and can be reached at 607-753-4823.
---