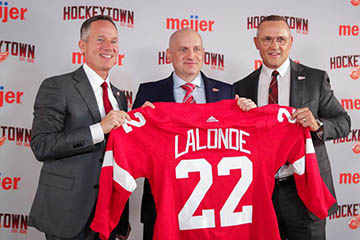 07/01/2022

The NHL's Detroit Red Wings are now led by a Red Dragon.
Former SUNY Cortland goalie Derek Lalonde '95 was named the team's head coach June 30, following a four-year stint as one of the top assistant coaches in the sport with the Tampa Bay Lightning. Lalonde helped the Lightning earn four straight postseason berths, highlighted by back-to-back Stanley Cup championships in 2020 and 2021 and a trip to the finals this past season.
The former physical education major, who played four seasons at Cortland from 1991 to 1995, will coach one of the NHL's Original Six franchises and one of its all-time winningest teams.
Steve Yzerman, a former Red Wings icon who is now the team's executive vice president and general manager, praised Lalonde in a statement announcing the hiring.
"I'm very pleased to announce Derek as our new head coach," Yzerman said. "He has proven himself as an excellent coach at every level and has spent the last four seasons in the National Hockey League as part of a very successful program in Tampa Bay. We feel he is ready to take the next step in his career as the head coach of the Detroit Red Wings."
A native of Brasher Falls, N.Y., about 12 miles southeast of Massena and 15 miles northeast of Potsdam, the 49-year-old Lalonde is far from an overnight success in the hockey coaching world. He started in the Division III ranks as a graduate assistant coach at Massachusetts College of Liberal Arts from 1995 to 1998 and then was an assistant coach from 1998 to 2000 at Lebanon Valley College under his former Cortland head coach, Al MacCormack. He remained in Division III as an assistant at Hamilton College from 2000 to 2002, then held Division I assistant positions at Ferris State University (2002 to 2006) and the University of Denver (2007 to 2011), the latter of which made four straight NCAA tournament appearances during his tenure.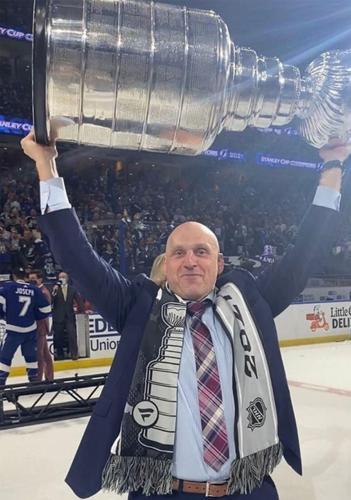 His professional coaching career began as the head coach of the Green Bay Gamblers of the United States Hockey League (USHL) from 2011 to 2014. He led the Gamblers to the league title in his first season. He followed that with two seasons as head coach of the Toledo Walleye, the Red Wings' farm club in the ECHL from 2014 to 2016, and two years as head coach of the Iowa Wild, the American Hockey League (AHL) affiliate of the Minnesota Wild, from 2016 to 2018, before his Tampa Bay tenure.
Lalonde was featured on SUNY Cortland's athletics website in 2021 following Tampa Bay's second consecutive championship.
"It looks like perseverance, but it never was," Lalonde said in the 2021 feature story. "I love the profession. There's not a day that goes by that I don't appreciate doing this for a living. Whatever stop I had, it was never about the next stop. It was always about being great in the job I was in. I got that advice early in my life. I live by it, and I was also blessed with a lot of good hockey teams. It's not an accident I've won everywhere I've been at. You have to have good players."
Lalonde also is no stranger to the Red Wings' organization. He helped transform the Toledo Walleye, the team's ECHL club, and won a combined 97 games in two seasons from 2016 to 2018. He followed that by inheriting a last-place team with the AHL's Iowa Wild and winning 69 games in two years, before the string of recent success in Tampa Bay.
Now, he's the 28th head coach in Detroit's franchise history and entrusted to help rebuild one of the sport's proudest franchises.
Lalonde has kept his Red Dragon friendships and memories close to his heart during his ascent through the coaching ranks.
"I love Cortland to death," he said in 2021. "I had an unbelievable experience. (My former teammates) are still my best friends. The last two years we've had a text exchange with about 30 of my Cortland teammates, not only during my two Cup runs, but also Nate Leaman's '97 World Juniors (head coach of Team USA's National Junior Team title-winning squad in January 2021).
"For me personally, I had to earn my career there. My first year I was one of five goalies. I barely touched the ice until my sophomore year (he played a total of 30 minutes as a freshman). By the time I was a senior I played in most of the games and my teammates named me the team's Red Letter Award winner. It was one of my greatest accomplishments. My teammates and my coaches provided experiences that shaped me and have helped me have the success that I've had."
---