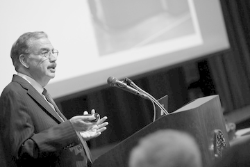 01/17/2022

Today, on Martin Luther King Jr. Day, I hope you will join me in taking a few moments to reflect on the life and accomplishments of a historic leader in racial and social justice.
Through the power of his words and the resounding influence of his actions, King brought hope and healing to millions of Americans.
As spokesman for the Montgomery Bus Boycott in 1955, King led a movement that resulted in the Supreme Court ruling racial segregation on public transportation was unconstitutional.
In 1963, King's movement against segregation in Birmingham, Ala. sparked a campaign for unprecedented federal legislation on civil rights issues. In the years that followed, the passage of the Civil Rights Act and the Voting Rights Act eliminated legalized racial segregation and removed barriers to voting access for Black Americans.
On this day, I am always reminded of an important figure in SUNY Cortland's history: Abraham Lincoln DeMond, who in 1889 became the first Black graduate of this institution.
DeMond went on to serve as pastor of the Dexter Avenue Baptist Church in Montgomery, Ala. Decades later, King would preach and organize the bus boycott from that very same church.
I wonder if Martin Luther King Jr. would have had the same ability to advocate, to protest and to dream, if pioneers like Abraham Lincoln DeMond had not come before him.
And I think about our responsibility today to continue the momentum set forth by all who came before us. Let us all continue to push forward toward justice in King's example.
---