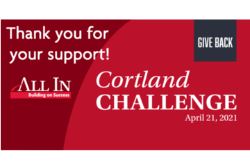 04/30/2021

The 2021 Cortland Challenge linked alumni, faculty, staff and friends of the university in the spirit of giving for current and future SUNY Cortland students.
And it was the best one yet.
A record number of donors, 2,370, combined to donate a record $313,165 toward a variety of SUNY Cortland causes during the one-day challenge on April 21, 2021.
"Every year we are more and more humbled by the generosity we see on Challenge day," said Natasha McFadden, interim director of The Cortland Fund. "The SUNY Cortland community continues to amaze us with their support of current and future Red Dragons. I hope every person who makes a gift to Cortland knows how impactful their contribution is."
The Cortland Fund received $111,403 from 395 donors. These gifts support campus life in a variety of vital ways, including scholarships, professional development for faculty and staff, technology and software and the Lynne Parks '68 SUNY Cortland Alumni House.
A team of generous alumni and friends of SUNY Cortland combined to offer $76,100 in matching gifts for this year's challenge. They include Cheryl Ellsworth Barredo M '81, Cortland College Foundation board member Louise Conley, Michael Leeolou '81 and Catherine Suarez Leeolou '81, Anthony Moon '86 and Susan Moon, Kim Stack-Myers '79, Victor M. Rumore II '84, and Constellation Advancement. The Cortland College Foundation Board of Directors collectively contributed more than $20,000 toward a dollar-to-dollar match to The Cortland Fund.

The Cortland Fund for Equity and Inclusion, established to support training and educational opportunities for faculty, staff and students, received $5,312 from 19 donors. This donor-supported fund will allow Cortland to attract recognized speakers and help offset the costs of attending the annual SUNY Diversity Conference.
The annual Athletics Challenge raised $168,378 for SUNY Cortland's varsity teams from 2,189 gifts.
Team award winners include:
• Most dollars raised: football, $37,172
• Most donors, extra-large group: men's soccer, 418
• Most donors, large group: softball, 247
• Most donors, medium group: women's basketball, 156
• Most donors, small group: women's golf, 81
• Highest average Cortland Fund gift: women's soccer, $30
The 2021 challenge set new marks in generosity in both dollars raised and the number of individual donors. Previous records were set in 2020, when the challenge raised $252,273 and in 2019, when 2,072 donors participated.
Thank you for your support of the Cortland Challenge.
Learn more about how the Cortland Challenge helps SUNY Cortland and its students and faculty at RedDragonNetwork.org/challenge.
---