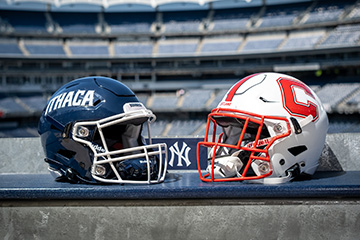 09/27/2022

SUNY Cortland faculty and staff members can score two free tickets and a free trip to this year's historic Cortaca Jug game at Yankee Stadium in exchange for serving as a bus chaperone on game day.
Departure from campus will take place at 7:30 a.m. on Saturday, Nov. 12, with a return from the Bronx scheduled for 30 minutes after the game ends. Buses should to arrive back in Cortland the same day at approximately 8 p.m.
Volunteers will be expected to help load buses in the morning and account for all riders on the return trip to Cortland. Interested faculty and staff members should email Kevin Pristash, director of Campus Activities and Corey Union.
A limited number of tickets remain available on Ticketmaster to the popular rivalry game between SUNY Cortland and Ithaca College, and the Yankee Stadium match-up is within striking distance of the Division III national attendance record.
All students, faculty, staff and alumni who have not already purchased tickets are strongly encouraged to buy tickets as soon as possible due to limited inventory. A campus ticket sale took place exclusively online from Sept. 12 to 18. Charter bus tickets for students also sold out.
The Cortaca Jug game set a national NCAA Division III attendance record in 2019, with 45,161 people at MetLife Stadium in New Jersey. The final attendance number for this year's game at Yankee Stadium could exceed that milestone.
"The response to this game is extraordinary," SUNY Cortland President Erik J. Bitterbaum said. "The support and spirit shown by our students, alumni, employees and families is unlike anything else in Division III athletics."
The 63rd edition of the annual rivalry game between Cortland and Ithaca College kicks off at 1 p.m. on Saturday, Nov. 12, in the Bronx. Ithaca and Cortland are ranked 13th and 14th respectively in the D3football.com Top 25 poll through Week 4.
Fans are encouraged to review the Yankee Stadium Reference Guide for information about Stadium policies and prohibited items. Additionally, fans should visit the 2022 Cortaca Jug website for more information about the historic game.
---