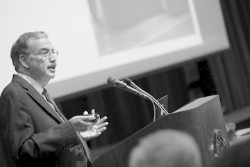 02/26/2021

Dear students,
With the weekend approaching, I wanted to share a reminder about the importance of being safe and responsible on and off campus for the rest of the semester. Your efforts have helped reduce our level of infection from the spike we experienced following several large gatherings, although our current case numbers still are concerning.
New York state's updated guidelines for going on "pause" have not changed any required campus safety protocols or student conduct policies. We must remain vigilant about covering our faces and avoiding large groups.
Please also remember that the SUNY system's Uniform Sanctioning Policy remains in effect. Attending large gatherings not only endangers the health of the community, but it could have drastic consequences on your educational career.
I want to thank you again for your pool testing response and all of your efforts for the past two weeks. Please be safe this weekend, for yourself and the people in our community.
All the best,
Erik J. Bitterbaum
President
---