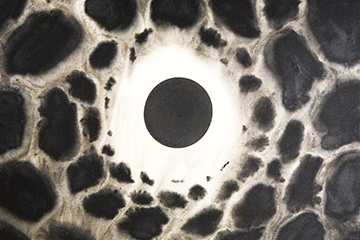 09/06/2023

Several years ago, visual artist Willie Binnie traveled from Williamstown, Massachusetts, to South Carolina just to witness a total solar eclipse.
It was a profound and sublime experience. So much so that it inspired Binnie to create "Black Sun," a solo exhibition of primarily monochromatic — that is, shades of one color — paintings and sketches that went on display Tuesday, Sept. 5, in SUNY Cortland's Dowd Gallery. The show runs through Wednesday, Oct. 20.
"(It was) not so much in the obvious aesthetic experience of a literal black disk — or void — but more so in the sense of collapsing time and feeling a truly existential sense of being infinitesimally small and inconsequential, which is a rather freeing and euphoric feeling," said Binnie, a visiting lecturer in the Art, Art History and Studio Art Department at Williams College in Williamstown, Massachusetts.
"(It) made me feel connected to humanity across time and place — from ancient spectators of the same phenomena to the present, all trying to make sense of our world — at least for those two-and-a-half minutes."
An opening reception and exhibition tour were held on Sept. 7 at the gallery in the Dowd Fine Arts Center on the corner of Prospect Terrace and Graham Avenue in Cortland.
The exhibition is free and open to the public, as are all exhibition-related events that contribute additional perspectives.
Binnie's work revolves around the title "Black Sun" in both symbolic and literal ways, said Jaroslava Prihodova, Dowd Gallery director.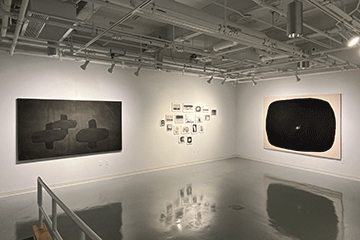 Smaller watercolors, sketches and a few large paintings in the exhibition refer to other themes present in previous works by Binnie that confront the American mythos — imagery that often obscures a complex and often troubling past and present — as well as larger concerns surrounding notions of power, nationalism, bigotry, war, land, death and the visual markers connected to each.
"I'm fascinated by humanity's blinding exceptionalism, especially now, in the face of ecological collapse, and this dependence on objects, such as the sun, that enable life to exist in the first place," Binnie explained.
Binnie's art often references works by Swedish filmmaker Ingmar Bergman, including "The Seventh Seal."
"The film had a huge impact on me when I first saw it in my 20s, as did much of Ingmar Bergman's work," Binnie noted. "Over the past several years, my work has become increasingly tonal, so perhaps that's why I've been dwelling on the film again lately."
Visit the Dowd Gallery website and social media for detailed information about the programs and events linked to "Black Sun." They include the following, all in Dowd Gallery:
Documentary Screening: A compilation of shorts titled "Within Spaces" will be screened at 5 p.m. on Thursday, Sept. 14 (date was changed).
Artist's Talk: Binnie will provide deeper insight into his artistic practice and personal perspective in the development of an individual visual language. The event begins at 5 p.m. on Thursday, Sept. 21.
Gallery Talk: Wylie Schwartz, assistant professor in the Art and Art History Department at SUNY Cortland, will discuss "The Art of Social Change: A Nordic Model" at 5 p.m. on Thursday, Oct. 5. She will consider Binnie's work through the lens of the so-called Nordic model of critical art practice to gain a more intricate understanding of his work.
First Friday: A guided tour of the exhibition has been organized by Cortland Arts Connect to take place from 5:30 p.m. to 8 p.m. on Friday, Oct. 6. The event will be both live and virtual on Facebook and the Dowd Gallery
Gallery Talk: Howard Lindh, an adjunct lecturer in the English Department at SUNY Cortland, will discuss "Out of Time: Ingmar Bergman's The Seventh Seal," an iconic film that describes a world on the brink of chaos. The lecture begins at 5 p.m. on Tuesday, Oct. 10.
Film Screening: The Ingmar Bergman-directed classic 1957 film "The Seventh Seal" will be shown at 5 p.m. on Wednesday, Oct. 11.
Gallery hours are 10 a.m. to 5:30 p.m. Monday through Friday with extended hours until 7 p.m. on Thursdays, and by appointment. Visit the Dowd Gallery website for details about exhibiting artists, other programs, safety protocols and online booking. For more information, or to arrange group tours, contact gallery Director Jaroslava Prihodova at 607-753-4216.
"Black Sun" is supported by the Art and Art History Department.
TOP IMAGE: detail of 2023 painting "Untitled (Black Sun I)," black gesso on canvas, 59 x 77 inches.
---