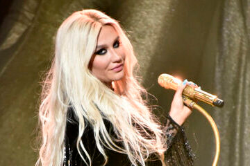 04/20/2021

"Tik Tok on the clock." It is almost time for Kesha to perform this and perhaps another of her hits at the first virtual and free SUNYFest concert.
The American singer, songwriter, rapper and actress will be joined by SUNY Cortland senior and rapper Wendell Felder, who will be one of the student openers on Saturday, April 24.
AJR, an American indie pop trio who are based in New York City, is the opening act.
SUNYFest will air on the virtual platform Looped from 5 p.m. to 10 p.m.
"It's just a little stress relief where you can watch some talent, listen to music and chill with friends while getting to personally watch an artist that you usually don't get to see," said Lizbeth Garcia, a senior community health major who serves as music chair of the Student Activities Board (SAB).
Attendees must register on Looped before the event by clicking "get tickets" and then "login to continue" using their SUNY Cortland email. A verification number will be sent and then users will be prompted to create a password. From there, attendees will be able to RSVP to SUNYFest.
Anyone with access to their SUNY Cortland email, including faculty, staff and alumni can attend this virtual concert. The SUNYFest Instagram and SUNY website will have updates and additional information about the concert.
Kesha (Kesha Rose Sebert), whose first album, "Animal," debuted at No. 1 on the Billboard 200 in 2010 and featured international top 10 singles such as "Blah, Blah, Blah," "Your Love is My Drug," and "Take it Off," will perform for SUNY students across the state.
Kesha has been nominated for multiple awards, such as Artist of the Year at the 2016 American Music Awards and Best Pop Solo Performance for her song "Praying" at the 2018 Grammy Awards. She was given the Trailblazer Award at the 2016 Billboard Women in Music ceremony, which gives recognition to influential female artists who have made significant contributions to the music industry. She also has more than 16 million monthly listeners on Spotify.
The success of the brothers Adam, Jack and Ryan Met as AJR started from their viral music video for "I'm Ready," which samples SpongeBob Squarepants' catchphrase "I'm ready!" and has over 35 million views on YouTube.
AJR writes, produces,and mixes all their songs from their living room in the Chelsea neighborhood in Manhattan. They have opened for artists including Demi Lovato and had a sold-out U.S. headline tour in 2017. They have more than 11 million monthly listeners on Spotify.
SAB at Cortland and student groups from other SUNY schools financially contributed to lining up these artists. The Student Activity Fee that SUNY Cortland students pay each semester made it possible for Cortland's SAB to be a part of SUNY history.
"I've been on the production committee planning things behind the scenes and I'm excited to finally see it all unfold," said AnnaMaria Jacobson, a senior communication studies major who serves as SAB president and director of student activities for the Student Government Association.
Earlier this semester, SAB emailed a survey to students asking them to rank artists in order of preference for openers and headliners. Other SUNY schools did the same for their students and ultimately, Kesha and AJR came out on top.
SUNY Cortland received special shout-outs from Kesha and AJR that can be viewed on SAB's Instagram page.
There will be additional performances from SUNY students as well.
"I'm actually excited to see the different talents from the schools!" Garcia said.
SAB requested video audition submissions from students who were interested in performing.
Felder, a senior criminology major, will represent SUNY Cortland as a rapper whose stage name is Prince Teejay. His Linktree will direct you to his music on YouTube, Spotify, Apple Music and Instagram.
"It is an honor to represent Cortland during this special event," Felder said. "I have performed at many shows from state to state but this one is my favorite, even though it's virtual, due to the fact that my own school gets to see my talent. I can't wait for everyone to tune in and I hope they are ready to watch a great show."
Prepared by Communications Office writing intern Chelsea Grate
---