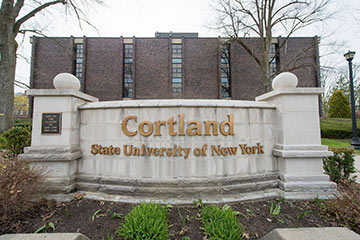 04/24/2020

The following message about the financial impact of COVID-19 on SUNY Cortland was sent on behalf of Anna Addonisio, vice president for finance and management; Mark Prus, provost and vice president for academic affairs and Erik J. Bitterbaum, president:
As we continue to navigate uncharted waters, we want to express our continued gratitude for all you've done to address the array of events resulting from this crisis. Because of you, our students continue to progress towards their degrees in ways we could not ever imagine. We thank you all.
The crisis has created fiscal uncertainty throughout higher education. Although SUNY Cortland has always been fiscally responsible, the current situation requires us to be exceptionally good stewards of our resources.
We are pleased to report that the federal CARES Act will provide $6.2 million to the campus, with half to be applied toward Student Stimulus and half toward Campus Needs. As we wait for guidance on how the portion of the stimulus funding earmarked for campus needs may be used, we are hopeful it will help mitigate the nearly $10 million deficit we are incurring due to student reimbursements related to the pandemic. Clearly, we will need to do more to fill that gap. As we plan for the upcoming months and beyond, we are implementing a number of measures to reduce expenditures and limit major new obligations.
SUNY System has asked campuses to immediately put spending constraints in place.
The directives are likely to change as the situation evolves, and we will continue to provide communication accordingly. We will make selected investments to ensure we advance our core mission.

HIRING
All advertised positions and open positions were reviewed and prioritized. A hiring freeze is now in place with a strict waiver policy. Any hiring request must be submitted to the appropriate vice president with final approval by President's Cabinet.
TRAVEL
All university travel is suspended. This includes travel that was approved and booked prior to this guidance. All travel net cards have been temporarily frozen.
When safe travel can resume, only essential travel will be permitted with the appropriate approval. All travel, regardless of funding source, must receive permission from the appropriate vice president through the respective dean, director or supervisor. Essential travel may include academic travel, travel on sponsored research funds, travel funded entirely from external entities or travel required to conduct normal university business.
PURCHASING (P-CARDS)
P-Cards have been suspended until further notice. Exceptions are granted on a case-by-case basis with limited approval.
PURCHASING
All contracts are being reviewed to determine if there is flexibility in the current commitment. Any future bids and purchase orders will be reviewed by the Resource Advisory Committee, with recommendations made by the president's cabinet. Please refrain from issuing purchase orders for the next 30 days. We will provide further guidance as we develop a detailed review process.
CAPITAL EQUIPMENT
All capital equipment purchases not currently in process are suspended, except for those related to health and safety and those deemed critical to the campus mission. We implemented a capital equipment replacement plan process in fall 2019, and approved purchases that have not been made are suspended as we continue to assess the financial impact and critical needs.
Despite the damage done by the COVID-19 pandemic, we have pulled together as a university. Truly, our faculty, students, and staff are SUNY Cortland's greatest assets. We sincerely thank you.
---