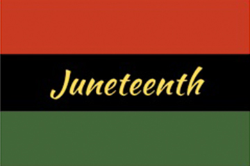 06/07/2022

SUNY Cortland and Tompkins Cortland Community College are hosting Cortland County's second annual Juneteenth Celebration on Saturday, June 18 at Courthouse Park on Church Street in downtown Cortland.
The Cortland County Community of Color (C4) network, a collaborative initiative between the two SUNY campuses, will host the official recognition of Black American emancipation from 5:30 to 8:30 p.m. The event will feature speakers, family friendly vendors, food samples and music.
Juneteenth celebrates June 19, 1865, when Texas was finally forced to recognize the Emancipation Proclamation of 1863, freeing the last enslaved African Americans in the country. Last year, Juneteenth became a federal holiday.
"In history there are certain dates that represent historically important shifts in society that all must pause to recognize," said Cyrenius Weagba Fitzjohn, SUNY Cortland's assistant chief diversity officer. "This day is celebrated in black communities across the country as a day of hope, remembrance and motivation to continue moving forward and make the most of the freedom and opportunities afforded them.
"Seeing the support of this day from other community members shows Black Americans that they no longer need to struggle for equity alone. This is why C4 hopes to continue expanding its Juneteenth celebration in Cortland to demonstrate the community support and care for black lives in our county."
Keynote speaker for the June 18 event will be the Rev. Phil Turner, pastor at Bethany Baptist Church in Syracuse. Nathaniel Wright, a pastor at God's Lighthouse of Praise on Port Watson Street in Cortland, will also speak.
---