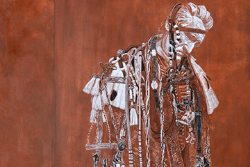 04/09/2021

Pittsburgh artist and educator Andrew Ellis Johnson creates historical drawings, paintings and sculpture whose figures reflect a sense of sly self-consciousness.
Take the detail of George Washington in one of his drawings.
"He was the perfect image of what leadership in the United States should be, tall, and then there's the proportions of his head, which in his time were considered to be perfect," said Johnson, an associate professor of art at Carnegie Mellon University's School of Art.
Yet the figure expresses less certainty, perhaps referencing the collision between Washington's stated stance on freedom while he was one of America's wealthiest and most prominent slave owners.
"This is very much about image and the difference between how we portray ourselves to ourselves and how we try to portray ourselves to others around the world," Johnson said recently about his unusual depictions of key figures and moments in U.S. history, past to very recent.
SUNY Cortland's Dowd Gallery in the Dowd Fine Arts Center has been displaying Johnson's installation of large-scale paintings and drawings on paper accompanied by a small sculpture series in an exhibition, titled "Founder," since March 15.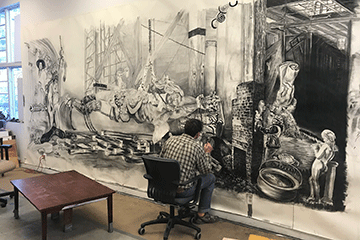 The show, which pays tribute to Johnson's local roots with an installation that showcases paintings and objects from several series, will be available to the audience both in virtual and in-person format until Friday, April 16.
Johnson, a Cortland native, developed his very historical-referenced art at a very early age. He is the son of the legendary late SUNY Cortland Professor of History Ellis "Doc" Johnson, a noted a jazz guitarist and civil war historian, and Cortland alumna Joan R. Johnson '59, M'62, who still lives in Cortland.
"As a youth, I asked my father why he named me after the only president to be impeached," Johnson said. "He said that Lyndon Johnson wasn't president at the time I was born."
When he was in early junior high school, Johnson's father sent him to see the late SUNY Cortland professor and nationally noted sculptor Gerald DiGiusto, who showed the teenager how to create a plaster mold to preserve a permanent version of his soft plasticene bust of "Manfred von Richtoven," the fictional Red Baron of The Peanuts fame.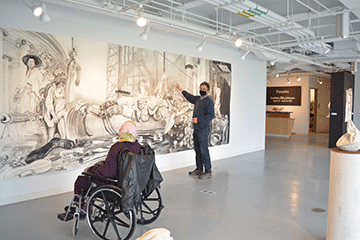 "He also taught me how to make something faux, so it looked like it was made out of bronze, by applying paint patina onto the surface," Johnson said. "What is faux and what is not is part of my historical references in my current exhibition."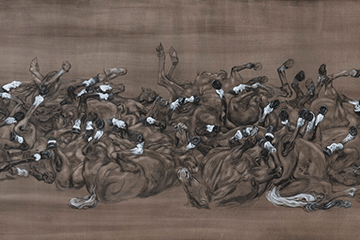 Johnson said he also once sold his work in the Courthouse Park alongside the late educator and prominent local artist Harry Davis. Johnson was influenced by the ironic sense of humor staring out of the velvet clown faces Davis painted.
"My art is in the category of fabular revisionist history I'm using to illustrate the inequity of the present," Johnson said, noting he also traveled abroad, living in Japan for several years, where he studied traditional Japanese Sumi ink and calligraphy techniques.
"The tradition of Asian scrolls is very much embedded in what I'm making," he said of his extraordinarily broad and tall paint-and-drawing works. "The wide ratio, the height to width, like cinema. You almost can't see them because they're so wide, 20 feet in one case, and some are close to 10 feet."
One of the series included in the display, "Tall Tails," interprets events after the 2017 "Unite the Right" rally in Charlottesville, Virginia. The work responds to the economic deprivation, structural violence and endemic racism that has persisted for centuries. Images like Thomas Jefferson's wig ignited with a Tiki Torch explore the myths, distortions and unmet promises of American hegemony and history.
"Drawings of the felled horses of Confederate Generals speak to the ongoing controversies regarding who and what we choose to memorialize and the malignant consequences of a Civil War that remain unresolved," he said.
Johnson employs realism as a tool to interject narrative, folding together fragments of both history and contemporary references. The black and white ink paintings create solemn tableaus filled with symbolism through the viscera of greed, organs of oppression, cavities of omission, tumors of hubris and sinews of hatred. His artistic lens distorts the past to meet the needs of the present to emphasize new contexts.
It's no coincidence Johnson's exhibition title suggests a glorious birth and at the same time a state of dismal failure, as with a sinking ship.
"Johnson considers the exhibition's title, 'Founder,' to be about both an agent and an action, the establishment and the breakdown — of a vessel, society or state in the context of historical, cultural and political conditions," observed Dowd Gallery Director Jaroslava Prihodova.
On March 17, Johnson lectured via Webex on "Flaying Foundering Fathers: Antidotal Portrayals for Historical Abuse," in which he re-examined the representation and repercussions of our slave-owning founding fathers and the ideals of liberty and equality that they espoused — and that remain so selectively attained.
Subsequent virtual seminars held to date during the exhibition have featured a SUNY Cortland alumna, current students and prominent African American guests.
One presentation remains, in which Johnson will participate.
Clint Smith, an internationally acclaimed writer, poet and educator, will explore the racial issues underpinning American history and culture in a virtual presentation and Q&A session with members of the SUNY Cortland community on Thursday, April 15. Smith is a staff writer for The Atlantic, was the 2014 National Poetry Slam champion and a 2017 recipient of the Jerome J. Shestack Prize from the American Poetry Review. He will discuss "How the Word is Passed" at 4:30 p.m. through Webex. Lorraine Lopez-Janove, SUNY Cortland's chief diversity and inclusion officer, will moderate the discussion. Johnson will join the conversation with the online audience.
Due to health concerns surrounding the COVID-19 pandemic, Johnson and his partner, Susanne Slavick, prepared a layout for the exhibition but did not come to Cortland to install it. Prihodova, a working artist, mounted the exhibition's very large pieces within the gallery's relative space limits.
"People are able to intersect with the gallery and wander through sort of like a video game," marveled Johnson, who recently was able to come inspect the display in person. "It's a rarity to get to see an in-person exhibition during COVID-19."
"Founder" is both physical and virtual. Gallery hours are Monday, Tuesday, Wednesday and Friday from 10 a.m. to 5:30 p.m. and Thursday from 10 a.m. to 7 p.m. Campus community members are invited to RSVP to view it in person and review health safety protocols on the gallery website; while visitors outside the university may view the exhibition interactively online at the gallery website.
For more information, contact Prihodova at 607-753-4216.
The program is sponsored by Dowd Gallery, the Art and Art History Department, Art Exhibition Association, Campus Artist and Lecture Series, Center for Ethics, Peace and Social Justice, Economics Department, Foundations and Social Advocacy Department, Haines Fund, History Department, Institutional Equity and Inclusion Office, Provost's Office and the Student Government Association
---