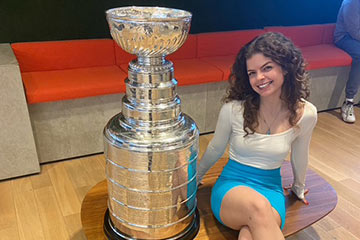 06/27/2023

As a hockey fan, Alex Russo '22 of Staten Island, N.Y., is no stranger to late-game heroics. But it must have still been a shock when a chance at her own dream job came down to overtime.
Russo, 21, a communications studies major, was hired in December by popular national sports website Bleacher Report as part its Open Ice team as a hockey expert and content programmer. By day she develops ideas and content. Night shifts place Russo in the middle of the NHL action, where she follows up to 10 games at a time and elevates the best plays to social media.
"As long as you know and love the game, you know which moments are important, and that goes beyond the game itself," Russo said. "Sometimes these moments are fan moments or moments between players or their families."
At SUNY Cortland, she was the sports editor of the Dragon Chronicle — the first woman ever to hold that position — and became the in-person media coordinator and in-person reporter for the Red Dragon men's hockey team. It helped Russo that writing is more than her career choice, it's a joy that's been with her since she first picked up a pen.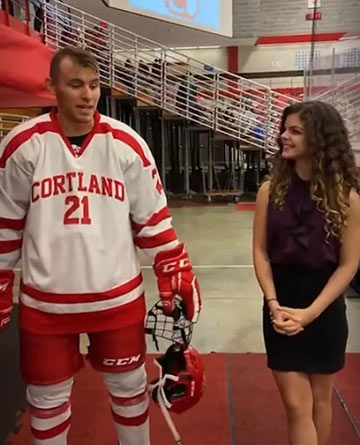 "I would write with an LED pen on the walls of my bedroom as a child and would use an LED flashlight to illuminate the words in the dark," Russo said. "I was hopelessly in love with poetry and wrote every chance I had — not only on walls, I promise, but in notebooks, and now in notes on my phone or laptop."
Her hockey fandom goes back almost as far. At 12 years old, her dad, Frank, told her about a New York Rangers star, Martin St. Louis, whose mother had recently died. His entire team went to her funeral in the midst of a playoff series to support him. St. Louis, not expected to play after that, returned to the ice for the love of his mom and his teammates. Trailing in the series, the Rangers rallied to win. After that, Russo knew she would be a Rangers fan for life — and that her life goal was to build a career in hockey media.
So, at 13, she began contributing game recaps to the Ranger Zone website. Then, at 14, she joined Blue Line Station, another Rangers fan site. Soon she was hired as a writer for Puck Pros before being let go for being too young. Not to be denied, she focused on her goal at Cortland.
Russo credits the classes of Lecturer Mario Hernandez M '03 and Adjunct Professor Elizabeth Wells, both of the English Department, for enhancing her writing and speaking skills and encouraging her to think creatively. She says that her advisors, coaches and other faculty created a college experience that she "adored."
But whatever she thought of her time at school, Russo knew she wanted to get into the media industry as fast possible. She worked four jobs during her time at the university and took 19 to 21 credits each semester before graduating last winter.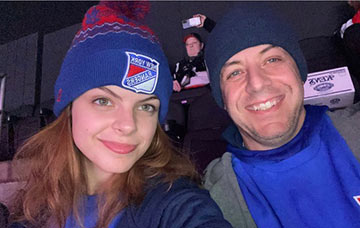 "Perhaps above all, I have to thank my advisor, Paul Van der Veur, who went above and beyond in helping me complete college in 2 1/2 years and found every opportunity for me. SUNY Cortland also gave me some of my best friends who have supported me through all my highs and lows. Attending Cortland was easily one of the best decisions I ever made."
Yet any sports fan knows there's not always a Cinderella story at the end of a season. Despite Russo's hard work, the new job almost didn't happen.
Matt Schneider, who works for Bleacher Report Open Ice, discovered Russo's SUNY Cortland intermission interviews on Instagram. After talking with him, she applied and earned an interview. Russo then endured an agonizing weekslong wait. Adding to the drama, Russo had been offered full scholarships for grad school at Emerson College and the Connecticut School of Broadcasting — and her time to accept was running out.
Faced with her own version of sudden death, Russo followed her heart and made the only play she could: letting the college deadline pass. An hour later the same day, riding home from Cortland after graduating, she received the call she'd waited for. There might not have been a screaming crowd or confetti from the rafters, but Russo had just won her dream job.
"I've only been at Open Ice for five months, but my perspective on hockey has expanded, my creative abilities have flourished and I have met some incredible people who have helped me grow in my position."
She still has one more goal — to work for the Rangers and repay the man who first set her on her path.
"I adore the roar of the crowd, the atmosphere, the jerseys, the history, and everything in between. My dad is my reason for everything, and I want to give back to him for everything he's done for me by one day having a position where I have access to or can afford season tickets for him."
---