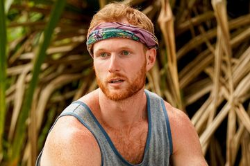 12/19/2019

Tommy Sheehan '14 dreamed about being a contestant on CBS' "Survivor" since he was a fourth grader.
Mission accomplished.
And then some.
Sheehan outwitted, outplayed and outlasted 19 other cast members to win the 39th season of the hit reality show in an episode that aired on Wednesday, Dec. 18. He won a $1 million prize for being the sole survivor.
As he did throughout the show, Sheehan spoke about his current job as a fourth-grade teacher at Floral Park-Bellerose Union Free School District on Long Island during a postshow special. He's used his experience on "Survivor" as a teaching tool for his students. Sheehan wants them to know that the subterfuge and deception he used to manipulate his opponents was just part of the game.
"I was playing to win this $1 million," he said. "I was playing to win for my family. I was playing to win for my students back home. I love you all in my class 4-D. I have one student in my class here today and I'm just so excited to take it home for them and say sorry later."
His plans for the $1 million? Sheehan told "Entertainment Tonight" that he plans on using some of it to fund his upcoming wedding with his fiancé, Nicole Badillo.
Sheehan's strategy was unique. Before heading to Fiji for filming, he studied every single "Survivor" episode hunting for clues on puzzles and challenges and taking notes on successful player strategies. He was the first winner since Season 19 to come out on top without winning any immunities or finding any hidden idols.
When it came to the end of the final episode, the "Survivor" jury, made up of previously eliminated contestants, sided with Sheehan for playing the game well in all facets.
"I actually kind of felt like a kingpin," he said. "Everyone was telling me everything. I'm not trying to sound cocky, but I was very open and real with people and I think when you're real with people, they're real with you too. People were telling me they found an idol and they were telling me they had an advantage. People told me everything. Then it was me saying 'Let's mix this up.'"
Watch clips and episodes on CBS.com and learn more about Sheehan at RedDragonNetwork.org.
---