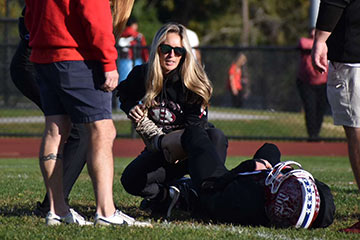 05/18/2023

Being an athletic trainer is more than handing out ice and ankle tape.
For Gina Harris '13, it also means volunteering to run high school rehabilitation programs on weekends, providing food for students in need and many other acts that help students, but often go unnoticed.
Not anymore. This spring, Harris, head athletic trainer at Bellport High School in Long Island, was named the national winner of the third annual Henry Schein Medical Athletics and Schools Rising Star Award.
The award, presented each year in March to coincide with National Athletic Training Month, is given to an athletic trainer with one to five years of experience who excels in the sports medicine industry. Henry Schein Medical is part of Henry Schein, Inc., a global provider of health care products and services.
"I'm astounded to be able to represent the athletic training community as Henry Schein's 2023 Rising Star," she said. "I'm glad to be able to expose the endless efforts of athletic trainers and educate others who may be less familiar with the multifaceted role that athletic trainers provide to sports medicine."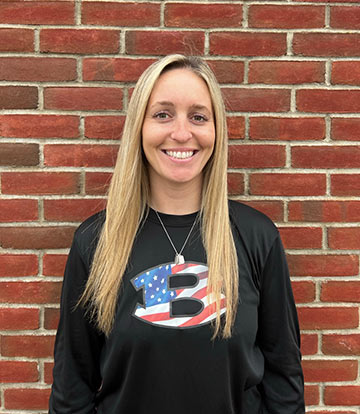 Athletic trainers may not get the glory, but they're valued by LeBron James and Little League all-stars alike. Harris' impressive list of accomplishments cited by Henry Schein Medical include:
Running rehabilitation programs in the school athletic training room.

Accompanying student athletes to their doctors.

Buying food for students who do not always have access to healthy, nutritional options.

Maintaining an active presence in her community.

Involving students in a work-based training program that lets them shadow her and learn the athletic training profession, while the internship hours satisfy credit requirements.

Setting up a cardiac screening day for hundreds of athletes, saving them thousands of dollars.

Volunteering on her days off and going beyond what was required of her.
"It requires having a connection and a relationship with each of your athletes in order to gain their trust during such a crucial point in their lives," Harris said. "That means some days it may take listening to them vent or bringing in food when they haven't eaten or showing up on a Sunday to get in extra work. It's the little things you do each day that create big results."
That extra effort reduces Harris' free time, but she believes that if the students are willing to work over the weekend, so should she. And if it helps the athletes in her care be healthier, then it's worthwhile.
Of course, it always helps when you have the support you need. Harris credits amazing mentors from high school to the present day — including several at Cortland — that helped guide her to where she is now.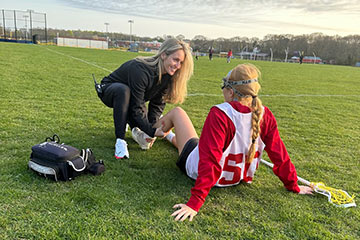 "Pat Donnelly and the entire Cortland Athletic Training staff have provided me with the foundation, knowledge and confidence it takes to succeed in this field," Harris said.
Harris became interested in athletic training after suffering a high school softball injury. After graduating with a bachelor's degree in athletic training from SUNY Cortland, Harris worked as a graduate assistant athletic trainer at LIU Brooklyn while getting her master's degree in exercise physiology and sports nutrition. While there, she was mentored to work as a student-strength coach with professional MMA fighters, including former middleweight champion Chris Weidman. Harris also spent time with LIU's track and field and softball programs.
She was hired as head athletic trainer by the South Country (N.Y.) Central School District in 2017, while also working as an athletic trainer at Sports Physical Therapy East. In 2020, Gina started her own business, GFIT LI LLC, providing corrective exercise programming, nutrition and wellness protocols and recovery treatment to people wanting personalized guidance.
Earning accolades hasn't made Harris feel like taking a break. Instead, she's collaborating on a new project: an official off-season strength and conditioning program for all sports at the school, alongside sports-specific nutrition programs.
"The most rewarding results are the lasting relationships you will develop with them (students) as they grow and begin instilling those same principles to their own friends and families," Harris said. "That is how you develop culture."
---