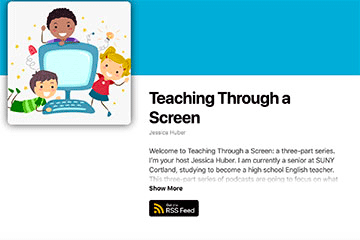 01/26/2021

When the pandemic forced schools across the nation to shift to online education, there weren't many resources immediately available to help teachers adjust.
Last fall Jessica Huber '20, then a senior English major from Lake George, N.Y., who aspires to become a middle-school teacher, decided to try to fill that void.
As her capstone project for an English class, Huber created 'Teaching Through a Screen!' an audio podcast featuring interviews with teachers discussing what the experience was like for them and offering tips for effective online teaching.
"This is a topic that is really interesting to me because I'm studying to become a teacher and I'm curious to find out what it has been like for teachers during this time of COVID-19," said Huber, who graduated after the fall semester.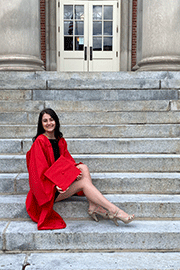 "It was something that was definitely outside of my comfort zone, which was why I decided to do the podcast in the first place," Huber said in a recent telephone interview from Lake George, where she currently works part-time at a preschool while she pursues substitute teaching opportunities.
"It was something that people could reach anywhere. I never had a final project that you could take with you anywhere, which is why I decided to make it a podcast."
Huber's creation was unveiled on Dec. 11, the last day of classes for the fall 2020 semester. Assistant Professor of English Danica Savonick shared with her 1,700 plus Twitter followers an excited message about one of her stellar students.
"Each episode includes interviews w/ educators about their experiences trying to teach online amidst a pandemic. Have a listen!" Savonick wrote.
The project evolved last fall out of the required capstone project in Savonick's course, Reading for Race, Gender and Sexuality.
"There's a statement in the syllabus about 'Learning Amidst a Global Pandemic,' and we really tried our best to always prioritize community, care and flexibility throughout the course," Savonick said.
Students in the course chose their own topics and mediums for sharing their findings in their final assignment. Huber designed, wrote and produced the trio of audio podcasts, each containing compelling stories of coping with significant, pandemic-related obstacles for the sake of inspiring children to learn. A written transcript accompanies her listening series.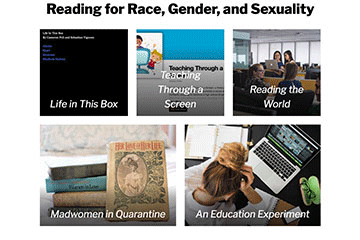 "Jessica did a lot of additional reading and research on the topic of online teaching amidst the pandemic because she was so passionate about the topic," Savonick said. "Then the task became figuring out how her podcast could contribute to these ongoing conversations."
In "Teaching Through a Screen!" Huber interviewed two individuals she knew, student teacher Annie Williams and working teacher Olivia Sutton, about what it is like teaching during the COVID-19 pandemic. Huber coaxed them to answer the questions about what most educators have struggled with daily fulfilling their jobs.
"One fun fact I love: the idea to break her material into three 'episodes' actually came from another student in the class during a peer review session," Savonick noted. "It was a fantastic suggestion and Jess could see that. The content is much more accessible in smaller chunks."
Williams was a SUNY Cortland student completing her semester of student teaching with a kindergarten class in Otselic, N.Y., last spring when the virus abruptly shut down that face-to-face experience. Her discussion on the podcast encompasses her roles both as student and as teacher.
"The reason I wanted to include her in the podcast was to give a little different perspective," Huber said.
Sutton is a 10-year teaching veteran of 7th grade English language arts at a middle school in South Glens Falls, N.Y. She provided Huber with observation hours last year before the pandemic broke out.
"So I got to know her very well," Huber said. "She is someone who has really inspired me and helped me find my true love for teaching."
"I was interested to find out if teaching with all technology was difficult for her or if she was enjoying it," Huber said. "The Google Classroom and teaching online, listening to a voice recording for teaching, showing your face through a camera screen, these were new things for Olivia, while Annie Williams on the other hand was used to doing those things."
Huber most admired how Sutton developed ties with individual students across the physical divide of the internet.
"Olivia took the time to send out a letter each week to a different group of her students," Huber said. "She wrote to let them know she is there for them whenever they need her, which is what I thought was such a wonderful idea.
"When they were taken from classrooms and made to take courses completely online, I thought it's so important to give them encouraging words and work, so they don't check out," Huber said.
Even when the pandemic can be viewed in the rearview mirror, the podcasts may remain a valuable tool. Huber said she could continue to produce them on other topics.
"I think that there are definitely benefits to online teaching that come from the pandemic," she said. "It's important to have the in-classroom time, but for any student who can't make it to the class or be there a certain amount of time, having teachers learn about more online resources is beneficial."
Huber had some help with feedback on some interview drafts, but otherwise completed the project by herself, even teaching herself how to record and edit audio content on iMovie and researching what platform would be best for uploading her completed episodes so that they could be shared on the internet. She even spliced together two free digital melodies to design the podcast's theme music.
"I think that students are heroes for continuing their education amidst such uncertain and frightening conditions," Savonick said about her class. "I treated every conversation, every blog post, every project — like Jess' and others' — as a small miracle that exists against all of the odds. We could not have had more obstacles facing us, and yet students persisted and created some truly amazing things."
---