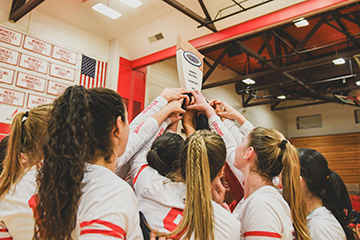 11/06/2023

A dominant fall continues for SUNY Cortland's athletics program as five squads earned their respective conference championships, including four teams on one day on Nov. 4.
The Red Dragon volleyball team is the most recent winner of a conference crown, capturing its third straight SUNYAC Championship with a sweep of New Paltz on Nov. 11. Now 25-3 on the season, the squad has earned an automatic berth to the NCAA Division III tournament.
The university's football, field hockey and men's and women's soccer teams also captured conference titles, with football and men's soccer still competing in the postseason.
Fall highlights include:
The nationally sixth-ranked men's soccer team has advanced to the "Sweet 16" — the NCAA Division III tournament third round — for the second season in a row. Cortland and Case Western Reserve played to a 1-1 tie through regulation and two overtime periods, and the Red Dragons prevailed following a penalty-kick shootout, 5-3, on Nov. 12. At 16-2-3, Cortland will face nationally third-ranked Middlebury this weekend at a time and location to be determined.

The nationally 11th-ranked football team is off to the 32-team NCAA Division III playoffs after capturing back-to-back marquee wins. The Red Dragons defeated Brockport, 41-17, on Nov. 4 to earn the Empire 8 Championship for the third consecutive year and they earned a thrilling 38-28 victory over nationally-ranked Ithaca in the Cortaca Jug rivalry on Nov. 11. At 9-1, Cortland will travel to nationally 14th-ranked Endicott for a first-round game on Saturday, Nov. 18, at noon.

The nationally 13th-ranked field hockey team captured back-to-back SUNYAC championships when it knocked off New Paltz, 2-1, on Nov. 4. Cortland earned a 3-1 comeback win over Stevens Institute in the first round of the NCAA Division III playoffs before falling to nationally fifth-ranked Messiah in the second round on Nov. 11. The Red Dragons finished their season at 18-2 and tied for ninth nationally.

The women's soccer team breezed past Brockport, 3-0, to earn the SUNYAC Championship on Nov. 4. Cortland was knocked off by John Carroll in the first-round of the NCAA Division III tournament on Nov. 11, finishing the year at 11-3-5.
In addition to the five team titles, men's cross country runners Hunter Brignall and Cameron Szabo as well as women's cross country runner Alexa Wolcott earned all-region honors at the NCAA Division III Niagara Region Championships on Nov. 11 by virtue of their top-35 finishes. In finishing fourth in the region, Brignall also earned an individual spot to compete at the NCAA Division III Championships on Nov. 18.
Fans can follow the Red Dragons' postseason play by checking SUNY Cortland's Athletics website, where they'll find game recaps, livestreams of home games and links to social media accounts.
---