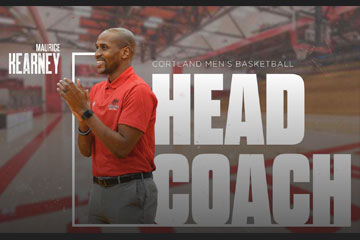 06/06/2023

Maurice Kearney has been named the men's basketball head coach at SUNY Cortland, according to Director of Athletics Mike Urtz. Kearney replaces Tom Spanbauer, who retired from the position this past spring after 28 years at the helm.
Kearney is a former Cortland men's basketball player and coaching staff member. In his four-season playing career at Cortland from 2010-14, Kearney played in 82 games, 51 as a starter, and served as a team captain during his sophomore and senior seasons. He was an assistant coach under Spanbauer for four years from 2014-18, followed by four years as the program's associate head coach from 2018-22.
During the 2022-23 season, Kearney was a men's basketball assistant coach at New York University, where he helped the Violets earn an at-large berth into the NCAA Division III playoffs.
"I am truly honored to be selected as the next head men's basketball coach at SUNY Cortland," Kearney said. "I'd like to thank Director of Athletics Mike Urtz, the search committee, and the entire department for giving me this opportunity. As an alum, I have so much love and passion for this institution as my experiences here have shaped me to be who I am today.
"I look forward to continue developing an atmosphere of excellence both on and off the court and helping these individuals grow into the best versions of themselves. My family and I cannot wait to get back to Central New York and are extremely grateful for the opportunity to rejoin the Cortland community. Once a Red Dragon, always a Red Dragon."
Kearney assisted in all facets of the program while coaching at Cortland, including recruiting, on-court instruction, scouting, budgeting and compliance. After being promoted to associate head coach, Kearney took on the role of recruiting coordinator and became heavily involved in player development and fundraising. Among the players he recruited was two-time All-American and SUNYAC Player of the Year and Cortland's career scoring and rebounding leader Austin Grunder.
During Kearney's Cortland coaching career, the Red Dragons averaged more than 17 wins per season, including a 21-8 campaign in 2015-16 that featured a SUNYAC title and advancement to the NCAA second round. As a player, Kearney was a member of the 2012-13 squad that went 24-5, won a SUNYAC crown and advanced to the NCAA second round, as well as the 2011-12 team that finished 22-7 and won an ECAC Upstate New York title.
Kearney also worked as an admissions advisor at Cortland from 2015-20 and was promoted to senior admissions advisor at the start of 2020. Within the admissions office, he reviewed and processed freshman applications in a database of 12,000 applicants and followed the school's criteria to make admissions decisions. As a senior admissions advisor, he also served as a liaison to the athletics department, led the Educational Opportunity Program, assisted with the marketing and communications of the office and managed more than 100 partnerships with secondary schools and community organizations in the region.
A native of Uniondale, N.Y., Kearney received his bachelor's degree in physical education from Cortland in May 2015 and a master's degree in health education in 2019. He played three seasons of basketball and football at Uniondale High School.
Kearney and his wife, Lindsey - a former Cortland women's basketball player and assistant coach - have a son, MJ, who was born in April 2023.
"We're excited to have Mo and Lindsey back with Cortland Athletics and the Cortland community as a whole," said Urtz. "I look forward to working with Mo, but more importantly, I'm excited to see him leading our men's basketball program moving forward. He has a very bright future, and I'm glad it will be happening right here for the Cortland Red Dragons."
---