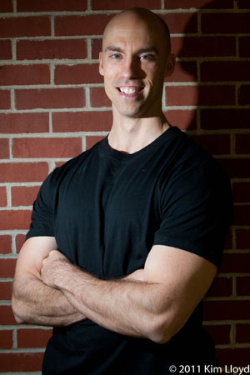 04/01/2013

Tony Gentilcore '02, one of New England's premier fitness trainers and a regular contributor to fitness publications, will discuss common injuries and how to test for them and write an effective corrective program, Monday, April 1, at SUNY Cortland.
He will break down how to design exercise programs that help people attain their goals in a safe and time-efficient manner during his presentation at 5 p.m. in the Corey Union Function Room.
Sponsored by recreational sports, the event is free and open to the public. While he is on campus, Gentilcore also will speak to kinesiology majors.
Gentilcore, who obtained a bachelor's degree in health education with a concentration in health and wellness from SUNY Cortland, is honored to return and speak at his alma mater.
"I feel it's important to give students a little foreshadowing that what will make them successful isn't necessarily 'book smarts,' graduating with honors and then just casually walking into a job," he said. "What really matters is that they never let go of the insatiable desire to consistently get better."
As co-owner of Cressey Performance, a high performance training facility located outside of Boston, Mass. He trains athletes ranging from Little League baseball players to Major League stars such as Kevin Youkilis, Curt Schilling and Corey Kluber. He also trains members of the United States Women's National Soccer Team.
"I work with a lot of baseball players at my facility, so I definitely have a unique perspective as it relates to handling all the intricacies with arm care and dealing with overhead athletes in general," he said.
Additionally, Gentilcore works with non-athletes who have an extensive array of interests from fat loss and weight control to more performance-based goals focused on dead lifting or overall movement quality.
He is an engaging blogger and a contributor to Men's Health Magazine, Testosterone Magazine and Livestrong.com, whose readers appreciate his no-nonsense approach to training, unique perspective on program design and corrective experience.
He is a certified strength and conditioning specialist and a certified professional trainer who motivates with the catch phrase, "Because Heavy Things Won't Lift Themselves." He describes his training style as "meat-head training with a scientific background."
"Many, not all, trainers view the human body — especially the muscular system — as insertions, origins and actions, when in reality, it's anything but," Gentilcore said. "I do have a unique perspective on functional anatomy and always live by the mantra that you can train around any injury."
Gentilcore credits much of his career success to the teachers and mentors during his time at the College.
"I remember sitting in class on numerous occasions thinking to myself, 'These people are like cyborgs of information,'" he said. "'How do they know so much?' Even today, I still wonder."
At Cortland, he hopes to make a guest appearance to get a quick lift in at Tomik Fitness Facility and visit his family in neighboring Groton, N.Y.
For more information, contact Louise Mahar, assistant director of recreational sports for fitness, at 607-753-4943. To learn more about Tony Gentilcore, visit his Web page www.tonygentilcore.com.
---