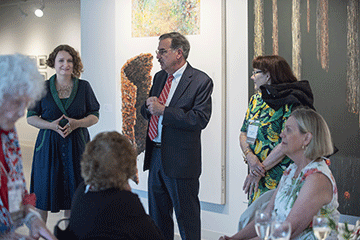 08/27/2019

SUNY Cortland's Dowd Gallery opens the 2019-20 academic year with an exhibition of 76 selected works from its permanent collection including rarely seen paintings, prints and sculptures.
The collection includes a photograph by Ansel Adams, lithographs by Marc Chagall, Joan Miró, Henry Moore, Pablo Picasso, Le Corbusier, etchings by Käthe Kollwitz, a series of color woodcut engravings by Salvador Dalí and also notable names from the contemporary art scene like Richard Serra and Judy Pfaff.
"Selected Works: Pieces from the Permanent Collection," will highlight the university's five decades of adding more than 900 pieces of both American and international art, which includes pieces dating to the 13th century. The exhibition opened Aug. 26 and will be on display in the gallery, located in the university's Dowd Fine Arts Center, through Friday, Oct. 4.
An opening reception will be held from 4:30 to 7 p.m. on Thursday, Aug. 29, at the gallery on the corner of Prospect Terrace and Graham Avenue.
All Dowd Gallery events are free and open to the public. Gallery hours have expanded by one hour from 10 a.m. to 4 p.m. Mondays, Tuesdays, Wednesdays and Fridays; and from 10 a.m. to 7 p.m. on Thursdays. Viewers can also visit by appointment. For more information, or to arrange an appointment or group tours, contact gallery Director Jaroslava Prihodova at 607-753-4216.
The exhibition also will include a documentary screening and several satellite exhibitions inside Dowd Center and elsewhere. Four invited speakers who represent neighboring academic institutions known for their collections and educational programs for students and the public will lecture. Th guest lectures all will take place at 5 p.m. in Dowd Gallery.
Upcoming events are as follows:
Satellite exhibition: "Student Select at the Library," which opened June 1, will continue to be displayed on the second floor of Memorial Library until May 29, 2020.
Satellite exhibition: Pittsburgh, Pennsylvania artist Jeremy Tarr will display his "Forsaken Ecologies" in the Dowd Center's Daniels Foyer Gallery from Monday, Aug. 26, until Friday, Oct. 11. Born in 1989, Tarr is a performance artist, videographer, sculptor and photographer whose themes are abandoned and vacant spaces in a state of decay indicative of the post-industrial world and the new myths and narratives that arise in their place. Tarr earned a bachelor's degree in printmaking and sculpture and an M.F.A. in studio art at Syracuse University. In 2017, he received an artist-in-residency fellowship in Berlin, Germany, where he had a studio at the Axel Haubrok Fahrbereitschaft Collection. This fall, he joined SUNY Cortland's Art and Art History Department as the assistant to gallery director at Dowd Gallery.
Film screening: The documentary "Herb and Dorothy" will be screened on Thursday, Sept. 5. The film tells the story about Herbert Vogel, a postal clerk, and Dorothy Vogel, a librarian. In their lifetime, the couple managed to build one of the most comprehensive contemporary art collections acquired with modest means. The time and location will be announced later.
Guest lecture: Diane Butler, director at the Binghamton University Art Museum, will present "Engaging Students, Engaging Communities" on Wednesday, Sept. 11. The museum reaches out to communities who needed a nudge to visit exhibitions and become involved in public programs. "By borrowing familiar models and experimenting with innovative activities, the Binghamton University Art Museum is working to entice visitors to find time to encounter art," Butler said.
Satellite exhibition: Daniel Farber Huang will show "Power of Faces: Looking at the Global Refugee Crisis" from Sunday, Sept. 15, to Tuesday, Oct. 15, in Old Main Colloquium. Huang and his wife, Theresa Menders, are a husband-and-wife team of photographers whose goal is to humanize the sheer numbers of men, women and children — 65 million by United Nations estimates — who have been forced to flee their homes due to conflict or persecution.
Guest lecture: Sara Pasti, the Director for External Relations and Advancement at the Samuel Dorsky Museum of Art, SUNY New Paltz, will discuss "Learning about Museums: Collections and Careers" Thursday, Sept. 19. The starting point for her conversation on the challenges and benefits of a university art museum will be New Paltz's Dorsky Museum, from its collection inception to the artwork selection process and how it stores and shares its collection. Pasti also will share her thoughts on museum careers and how consultants assist museums in their work.
Guest lecture: Leah Sweet, the Lynch curatorial coordinator for academic programs at Cornell University's Herbert F. Johnson Museum of Art, will address how the Johnson Museum engages with curricular and scholarly pursuits at Cornell University via both broad and deep academic partnerships. Her Thursday, Sept. 26, lecture is titled "A Place with no Fences: Fostering Curricular and Scholarly Connections at the Academic Art Museum."
Guest lecture: David Prince, curator at the SU Art Galleries, Syracuse University, will describe the 150-year history of the university's permanent art collection and its key role in fostering education on Wednesday, Oct. 2. "Syracuse University enjoys the distinction of being the nation's first institution of higher education to offer degrees in studio arts, notes Prince, about his talk, "From Closet to Classroom: the Syracuse University Art Collection."
Since its inception, Dowd Gallery has primarily focused on showing engaging, challenging and relevant artwork that has enhanced the intellectual culture on campus and the region, Prihodova explained.
Alongside the exhibition mission, the gallery has continued acquiring historical, modern and contemporary art. The university accepts paintings, prints and objects to include in the permanent collection.
"Although our collection is small, it is not insignificant," she said. "Among artwork created by regional artists, current and former Art and Art History Department faculty members and alumni, we own pieces by titans of the art world."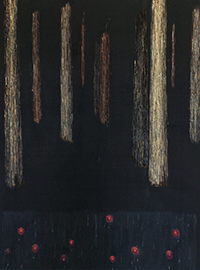 The main gallery collection also will include work by Yaacov Agam, David Ahlsted, Clayton Anderson, Carl Andre, Karel Appel, John Baldessari, Leonard Beck, Robert Birmelin, Richard Bosman, Harvey Breverman, Dorothy Byer, Paul Cezanne, Zaccharie Charvolin, Val Cushing, Hui Fang, Henry Gernhardt, Leon Golub, Frank Goodnow, Stanley William Hayter, Hegedűs 2 László, Jenny Holzer, John Jessiman, Steven Kemenfly, Ernst Kirchner, Vera Klement, Barbara Kruger, Wei Li, Craig MacPherson, René Magritte, Aristide Maillol, Henri Matisse, Peter Max, Michael Mazur, George McNeil, Peter Milton, Robert Motherwell, John Newman, Alexander Peroutka, Justin Pribulick, Heather Ramsdale, Ray Parker, Georges Rouault, Edward Ruscha, Kent Rush, Changzhong Shao and Maurice de Vlaminck.
In recent years, SUNY Cortland alumni and individuals associated with the university took advantage of the possibility to give back in the form of artwork.
For example, the collection's latest addition came from Jacquie Salomon '69.
"Mrs. Salomon donated two large paintings by Vera Klement, a Chicago-based artist whose work is included in major collections all over the country," Prihodova said. "We are very fortunate to share these pieces with our audience this fall.
"It is a great alternative to donors who value the arts and want to make other than a financial contribution to the institution," Prihodova said. "This exhibition, in part, is a tribute to our donors, who felt compelled to leave a lasting legacy."
The SUNY Cortland art collection brings awareness to the notion that art is an asset with an educational charge. The Dowd Gallery has been using its collection in thematic exhibitions, class courses such as art history, Spanish and economics as well as studio-oriented courses.
"The art collection is used as a learning tool to help to understand historical connectivity, application of innovation as well as political-economic commentary across the fields," Prihodova said. "Besides the scholarly aspect of the collection, this exhibition allows the audience to visit pieces otherwise locked in storage."
---