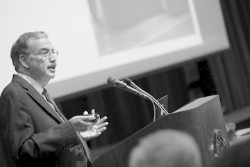 10/11/2021

Dear campus community,
I am reaching out today, Indigenous Peoples' Day, to take a few moments to reflect on its meaning.
Long before Europeans arrived, the Americas were populated by millions of people from hundreds of different cultures. For centuries, Indigenous people were displaced from their land and subjected to policies of assimilation and suppression. In spite of this long history, today Indigenous peoples—there are over 500 tribal nations in the United States alone—continue to practice their traditional cultures and assert their right to self-determination.
SUNY Cortland was founded on the traditional homelands of the Haudenosaunee or Iroquois Confederacy. The Great Law of Peace, which established the Iroquois Confederacy in 1142, recognizes the rights of all people to respect and peace. Haudenosaunee peoples today, including our neighbors at the Onondaga Nation, continue to practice these principles, including in their tireless advocacy on behalf of issues like human rights and environmental justice.
Diversity and inclusion are critical to SUNY Cortland's mission. Officially recognizing Indigenous Peoples' Day in 2018 was a start for us at this university to begin to more fully honor the history, the culture and the contributions of Indigenous peoples.
And we must continue to do more.
I am reminded of advice shared by Sid Jamieson, a member of the class of 1964 who returned to campus to speak in November of 2019. Sid, who coached Bucknell University's men's lacrosse team from 1968 to 2005, is the only Indigenous person to have served as head coach of a Division I men's lacrosse team.
During his visit, he urged those in attendance to think about the Haudenosaunee seventh generation principle, which compels people to consider their actions not in terms of that single moment in time, but on the scale of its ramifications in seven generations.
We can't undo painful centuries of colonialism today. But we can commit to listening, educating ourselves and working to expand opportunities for our Indigenous students, faculty, staff, alumni and neighbors. Both for tomorrow and for the generations to come.
All the best,
Erik J. Bitterbaum
President
---