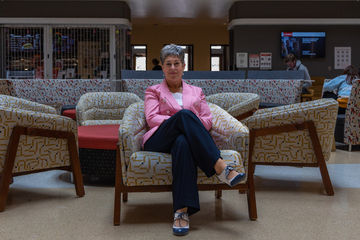 04/26/2023

Ann McClellan already feels at home at SUNY Cortland.
McClellan, who will start as the university's provost and vice president for academic affairs on Thursday, May 4, had most recently served as interim provost and vice president for academic affairs at Plymouth State University in New Hampshire.
The similarities between Cortland and Plymouth State – public universities with traditions in teacher education, athletics and commitment to faculty excellence – attracted McClellan to this opportunity and excited her about the possibilities ahead.
"I love teaching," McClellan said. "That's why I'm really drawn to Cortland. This is an educationally grounded institution and people here are really interested in talking about and teaching about teaching."
A graduate of the University of Michigan, McClellan earned a master's in literature and a Ph.D. in English from the University of Cincinnati. She started teaching at Eureka College before working in Plymouth State's English Department for 14 years, teaching 20th century British literature, serving as chair for six years and chairing the university's Women's Studies Program for four years. McClellan became Plymouth State's associate provost in 2019 and served as interim provost since 2020.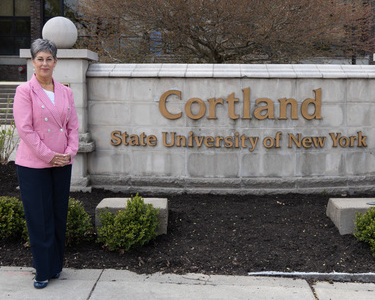 Early in her time as a commuter student at the University of Michigan-Flint, McClellan switched majors multiple times between music, English, communications and education before an honors program thesis inspired her to pursue research and graduate studies.
For now, McClellan is aiming to meet with and listen to members of the Cortland faculty and staff to learn about their research, their priorities and their concerns.
"I am definitely going to be relying on the people here in the Provost's Cabinet, the deans and the people in the Miller Building to give me history and context for things that are happening," McClellan said. "I am also doing a lot of homework.
"It may not sound exciting, but reading the academic catalog from front to back is really helpful. I'm learning about the general education curriculum. How SUNY works as a system is very different than what the University System of New Hampshire was like."
McClellan was recognized at Plymouth State with awards for distinguished academic advising, distinguished scholarship and excellence in faculty service. In 2010, she received the Theo Kalikow Award, which is given to campus community members and members of the greater community for their efforts toward the advancement of women and women's issues.
Among the administrative projects she led, McClellan helped to create a system of predictive analytics between enrollment management and academic affairs that allowed department chairs to better schedule general education classes.
She also led the search for Plymouth State's first chief diversity officer and the development of a Center for Diversity, Equity and Social Justice.
"Social justice curricula and programming had a long history at Plymouth State; we had a Peace and Social Justice minor," McClellan said. "But I was really excited about that, about helping to support those initiatives and change the way our university and our community looked and how we supported diverse groups of students."
McClellan is encouraged by SUNY's Promoting Recruiting Opportunity, Diversity, Inclusion and Growth (PRODiG) initiative and is excited to explore future opportunities to diversify Cortland's faculty and staff and provide new opportunities for students to prepare them for careers after graduation.
"I think we can lean into some of the structures that are already here to create new undergraduate and graduate degrees and certificates in diversity, equity and inclusion, options that could pair with education degrees and would work in various industries and non-profits," McClellan said. "We see, especially post-COVID, with how much we've moved online, even more than before, that our students have to have these global communication skills and understandings of diverse cultures and values."
She is taking over for Mark Prus, who is returning to the faculty in the Economics Department after having served as Cortland's provost and vice president for academic affairs since 2008.
A scholar in 20th century British literature and culture, Sherlock Holmes and fan studies, McClellan is the author of Sherlock's World: Fanfiction and the Reimagining of BBC's Sherlock and How British Women Writers Transformed the Campus Novel. She has presented and published several chapters of an upcoming work on Black American adaptations of Sherlock Holmes in Broadway musicals, silent film, advertising, jazz music, fiction and graphic novels.
"I really believe in public educators being public intellectuals as well," McClellan said. "During my time in New Hampshire, I worked with New Hampshire Humanities, a non-profit organization that's funded by the National Endowment for the Humanities. They have grants and a Humanities to Go program where a public library or non-profit can request a particular person to talk and NHH provides a grant to provide a stipend. I did one five days before I moved here.
McClellan believes her recent experience teaching at an institution similar to Cortland will help her quickly connect with the university's faculty.
"As you would want with any provost, I think it's a benefit that I have served as a faculty member for so long," McClellan said. "I understand the workload concerns. I understand the challenges of staying up-to-date with curricular developments, innovative teaching, scholarship and making sure that faculty and staff are included in governance of the university. We're part of an academy and as academics, we all work together to run it."
---