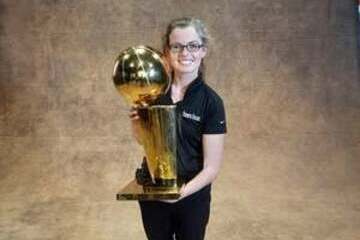 08/30/2021

Paige Hammond '17 and her coworkers have a new way of addressing each other now.
A sport management major at SUNY Cortland, Hammond currently works as an event coordinator for the Milwaukee Bucks. One of those events? The team's run to an NBA title, capped with a 105-98 victory over the Phoenix Suns in Milwaukee on July 20.
"We'll send emails to each other and say, 'Hey, champ,'" Hammond laughed. "The team did it on the court, but we did it off the court, for sure."
As event coordinator, Hammond manages all aspects of meetings, special events, VIP parties and basketball games for the Bucks and Marquette University's men's basketball team at Fiserv Forum, a $525 million arena in Milwaukee that opened in 2018. She coordinates with clients and vendors and works with other departments to make sure that visitors get the most out of their time at this world-class facility.
Her duties extend outside of the arena as well. The plaza outside Fiserv Forum hosts a weekly farmer's market throughout the summer, the Morning Glory Art Fair and an event space named "Gather," which caters to weddings and rehearsal dinners.
The 2020-21 NBA season was a challenging period for Hammond in that it began without any fans in the stands because of the COVID-19 pandemic. By Game 5 of the NBA finals, the arena was packed with 17,397 people and another 65,000 had gathered outside on the plaza to watch the game on giant screens.
The pandemic added extra responsibilities for Hammond, as she was also in charge of coordinating COVID-19 testing for the team's courtside employees and the fans sitting along the sidelines.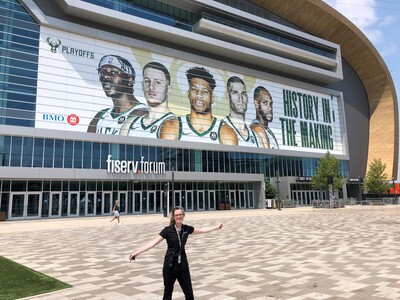 "You never get bored," Hammond said. "We have so many cool events and awesome opportunities. My portfolio has the craziest range. I've done Monster Jam, I've done Disney on Ice, I've done such a variety of things with the farmer's market and the plaza. We just get such a variety of events. People always ask me what I do in the offseason, and for us, on our side, there really isn't an offseason. We want to have as many events in the arena as possible."
Hammond grew up playing soccer and basketball but it was an elective class in sport management she took at Galway (N.Y.) High School that inspired her career path.
At SUNY Cortland, she got involved with the Sport Management Club, serving as treasurer and helping to arrange events and ceremonies, and was president of the university's Quidditch team, organizing tournaments and meets. An experience as a game day intern with the Rochester Knighthawks of the National Lacrosse League gave her an opportunity to do hands-on work with a professional sports team.
She was named the Outstanding Senior in Sport Management in 2017.
"I grew from all of the opportunities around me and I did everything I could put my hands onto," Hammond said. "My classes were so beneficial too. All of these extracurriculars helped me grow and for events, you need to be doing them to learn. It was so hands-on."
Hammond earned a master's degree from Syracuse University in sport venue and event management and did an internship at the Wells Fargo Center in Philadelphia — home to major concerts and events and the NBA's 76ers and the NHL's Flyers — to cap that experience.
After that internship, she moved to Milwaukee not long after Fiserv Forum opened in 2018, where she helped to create a number of key processes at the brand-new building.
Hammond has a job to do regardless of the team's record on the court but she said that being part of a championship season in Milwaukee "knocked off something on the bucket list."
After a whirlwind season, Hammond got a pretty nice souvenir: a photo with the Larry O'Brien Championship Trophy, the NBA's golden ball-on-pedestal icon.
"It all kind of feels like a dream," she said. "I don't think any of us thought we'd get to this point. After the whole crazy season, we hoped maybe we'd make it to the Eastern Conference Finals, who knows? But then they won it. I was working on the farmer's market too and then with the team winning the championship, it was super exciting.
"It was very nice to lift that trophy and know that you had a hand in the whole thing."
---