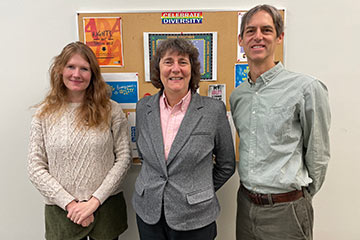 11/07/2023

SUNY Cortland has been recognized as a top school in the country for students with disabilities, ranking 42nd on a national list of disability-friendly colleges.
Cortland was one of only three New York state institutions recognized by Intelligent.com, a website that analyzes data for potential college students.
The website notes that up to 20 percent of undergrads in the United States report having a disability, but that support offered by schools can vary widely. Ranking data was based on specific initiatives and programs that support students with physical or learning disabilities, along with each schools' cost, credits required to graduate, online and on-campus availability and accreditation status.
Sue Sprague, director of Cortland's Disability Resources Office, said her office's goal is to make improvements in accessibility that are felt in day-to-day life at the university, including everything from campus housing and service animals to online learning and note-taking technology.
"We want students with disabilities to have equal access to their education, programs and activities of choice and not experience discrimination on our campus," Sprague said. "Our office staff want to make sure that students with disabilities feel part of the community at SUNY Cortland, welcomed with their differences, given respect and ability to have access to accommodations when needed."
Associate Professor Tim Davis of the Physical Education Department, and national chair of the Adapted Physical Education National Standards (APENS) Program, said Sprague and her office have made a giant difference at Cortland.
"She's (Sprague) truly been an amazing advocate for students with disabilities and amazing in giving them a voice," Davis said.
A big part of that is student outreach. Sprague's office is inviting all staff, students and faculty to meetings scheduled for 5 p.m. on Tuesday, Nov. 28, and noon on Friday, Nov. 29, at Corey Union's Fireplace Lounge.
"We plan to hold a series of focus groups this year to provide an additional structure for eliciting information about how students and other community members perceive campus culture around disability, accessibility and interactions with our office," said Assistant Director Katie McCulloch.
The Disability Resources Office also plans to hire a new position to help neurodivergent students with executive functioning strategies — some of which are time management, focus and planning. According to Sprague, these are vital building blocks for decision-making and self-confidence.
Emily Helft, assistant director of professional development with Landmark College Institute for Research and Training, is also scheduled to speak to faculty and staff about "The Hidden Connection: Linking Executive Function with Student Behavior and Success" on Tuesday, Jan. 16 and Wednesday, Jan. 17.
Assistant Director Jeremy Zhe-Heimerman said this progress has come at a time when increased funding for students with disabilities across the SUNY system has been met with a substantial increase in students who use his office.
"Accessibility and inclusion are the responsibility of the entire institution – not just our office," Zhe-Heimerman said. "This ranking is a testament to the great work that folks are doing across campus. We hope our office is doing a good job of welcoming students with disabilities, ensuring they get equal access to SUNY Cortland, and educating the campus on disability and accessibility. But it takes a community of caring, like we have at SUNY Cortland, to create an accessible campus where students with disabilities feel a sense of belonging."
———
Top photo: From left are Katie McCulloch, Sue Sprague and Jeremy Zhe-Heimerman of SUNY Cortland's Disability Resources Office.
---